We have made it to number 11! We would like to introduce you to one of our most unique jelly makers, Wild N' Zesty. Headed by owner and creator Elizabeth Wyse, Wild N' Zesty has become a staple here at Tip'n the Mitten.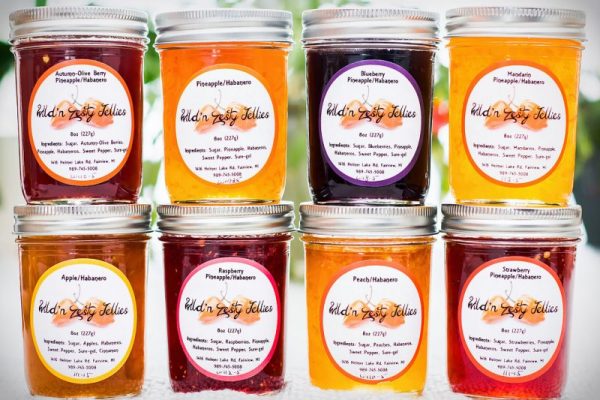 Wild N' Zesty are an amazing blend of fruit and heat. Elizabeth takes amazing fruits and blends them perfectly with just enough habenero to make it "zesty". Mix these great jellies with cream cheese and put them on a cracker and you are in for a treat and that is just the beginning! Try it with shrimp, on a sandwich or dozens of other ways including on ice cream! Once people buy one jar, they always come back! She offers a number of flavors ranging from pineapple and mandarin habenero to my personal favorite, autumn olive and habenero.
Take a minute to find out more about how this great Michigan business got its start:
From the Wild N' Zesty website:
My inspiration for Wild'n Zesty originated from many of my five children and their spouses. It primarily started from a local friend who presented me with the "Pineapple Habanero" flavor. My family and other local friends enjoyed it so much they asked me to process it in mass quantities so they could purchase it from me. With the support and encouragement from my husband and family I pursued other flavors, took the steps necessary to become licensed, and adventured out into the Michigan stores. I also make a point of purchasing the fruit from Michigan producers with the exception of pineapple, mandarin and mango as it is not grown locally. 

     I"m excited about the endless possibilities of this small business having had the opportunity to hire others to work along side me. I give all of the credit to God as He has opened doors each step of the way. He is so good!  
We are pleased to be able to offer everyone the opportunity to try these and NEW great flavors in our store anytime, samples are ALWAYS available! If you would like to find out more about Wild N' Zesty Jellies, check out their website at wildnzesty.com or on facebook here.
Thanks for spending time learning more about our wonderful Michigan vendors! Stop by again to find out more about all we have to offer here at Tip'n the Mitten!
Comments