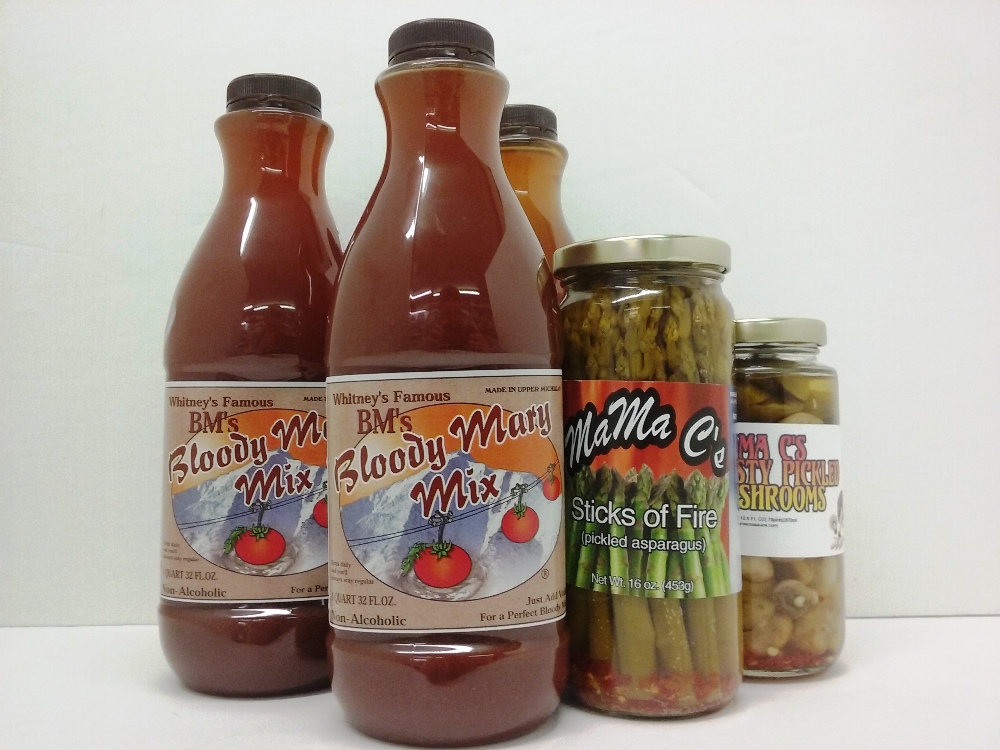 It still inspires me to see the faithful following that our amazing vendors have here in northern Michigan! Now, two years in to this business, we are reminded almost daily that each vendor is unique and has their own story! Never has this been more true then with regard to our Upper Peninsula treasure, Whitney's Famous Blood Mary Mix.
Things are picking up here at Tip'n the Mitten, but despite our busy schedule with Main Street meetings, city council meetings and just the day to day grind of running a store, the best way to keep it real is to hang out with our customers! On Monday, I was sitting at the store, enjoying a few minutes, when a lovely young couple came in to our store and started browsing around. As usual, they headed over to the fun shelf filled with honey, maple syrup, sauces, mixes and cherry stuff started talking. I noticed the young lady was holding some Whitney's so I said to her that she was certainly welcome to a sample because a sample of Whitney's ALWAYS sells itself! She laughed and asked if I knew Whitney! While we pride ourselves on going almost 100% through the creators of these products and skipping distributors, Whitney's comes to us through our local beer and wine vendor. I begrudgingly said no I had never met Whitney. I then learned much about her, her product and even its packaging from her friend!
After she left, I found Whitney's website and started learning more! The following is from her About Us page:
How The Great Mix Came About

As an experienced bartender for 20 years I found one of the most time consuming drinks to make was a quality Bloody Mary. What I needed was a flavorful ready-made Bloody Mary Mix that was bold yet pleasing to the taste. After years of experimenting with numerous concoctions I finally developed one that satisfied both my high standards for a quality mix, and one that was pleasurable for the more discriminating patron. With my unique ingredients precisely blended I felt that I now had a drink that would satisfy even the most particular customer.

Making The Elixir

With encouragement from my friends and family I decided to market my Bloody Mary Mix. They all felt there was a call for my well-thought of beverage. With this encouragement tucked away I began to manufacture my own mix. I obtained the necessary licenses and built a manufacturing place that would meet all the stringent state regulations. Within an amazingly short period of time, the kitchen-manufacturing site was ready to produce my new and exciting Bloody Mary Mix.

History Of The Name

Being in the Bar/Restaurant business for many years my mix became popular and steady. Customers would often say, "Whitney how about one of your famous BM's? This humorous Interrogatory became a standard request and thus was born the expression "Whitney's Famous BM. Although the expression meant little to me at the time, my sister told me that she would love to have one of my Famous BM's. Lightening struck–we looked at each other and knew that a catch slogan was just revealed–Have you had your BM today"?

So Many Uses

My special Bloody Mary Mix is not just limited to being an exquisite accompaniment for vodka, pickle and a stalk of celery. Adventurous and creative cooks are using my rich blend in spaghetti, chili, and soups. A host of other uses are possible and its limits are only the limits of one's imagination.
We are pleased to carry this great product! It is so good, we let this product speak for itself. In fact, you can find me on many days, having a virgin bloody mary with just some tasty Whitney's Famous and a Stick of Fire from Mama C's!
Come on in and give it a try!
Comments