Straying from our regular format this week, we have decided to feature a BRAND NEW vendor here at Tip'n the Mitten as a kick-off for her visit this weekend! An incredibly talented potter/artist, her work speaks for itself and we are proud and honored to be able to carry a small selection of her work right here!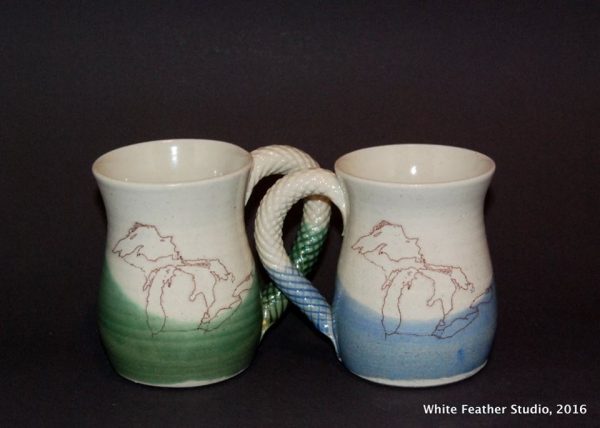 From functional to unique, each and every piece created by Sally, owner/artist of White Feather Studio, is a work of love. Each thrown and decorated by this talented artist, it is easy to see why she is so quickly, making a name for herself in terms of creativity and quality. Located in Grand Rapids, MI, find out more about this exciting new vendor!
From her website:
Sally Jenks has worked with clay regularly since 2003. As a student she focused on ceramic art and refined her skills as a functional and sculptural artist, graduating from Aquinas College in 2010 with a B.A. in Studio Art.  She continued her education at Syracuse University, where she completed an M.A. in Museum Studies, and a Certificate of Advanced Study in Cultural Heritage Preservation.

"My work generally falls into two categories – the primarily functional and the primarily artistic.  One often informs the other, as each presents its own set of challenges. The majority of my work is functional because many functional forms present unique qualities – size, shape, design – within the context of their use and purpose.  I enjoy the idea that something handmade might find a place in someone's life, perhaps daily, as a piece of utilitarian art."
We are very excited to carry a small sample of all that White Feather Studio has to offer and look forward to having her be a long-time part of Tip'n the Mitten!
If you would like to learn more about Sally or White Feather Studio, stop into the store and meet her this Saturday from 12 to 3pm, May 7th, 2016 or check her out online. You can find out more online on her website at whitefeatherstudio.com or on facebook here.
Comments