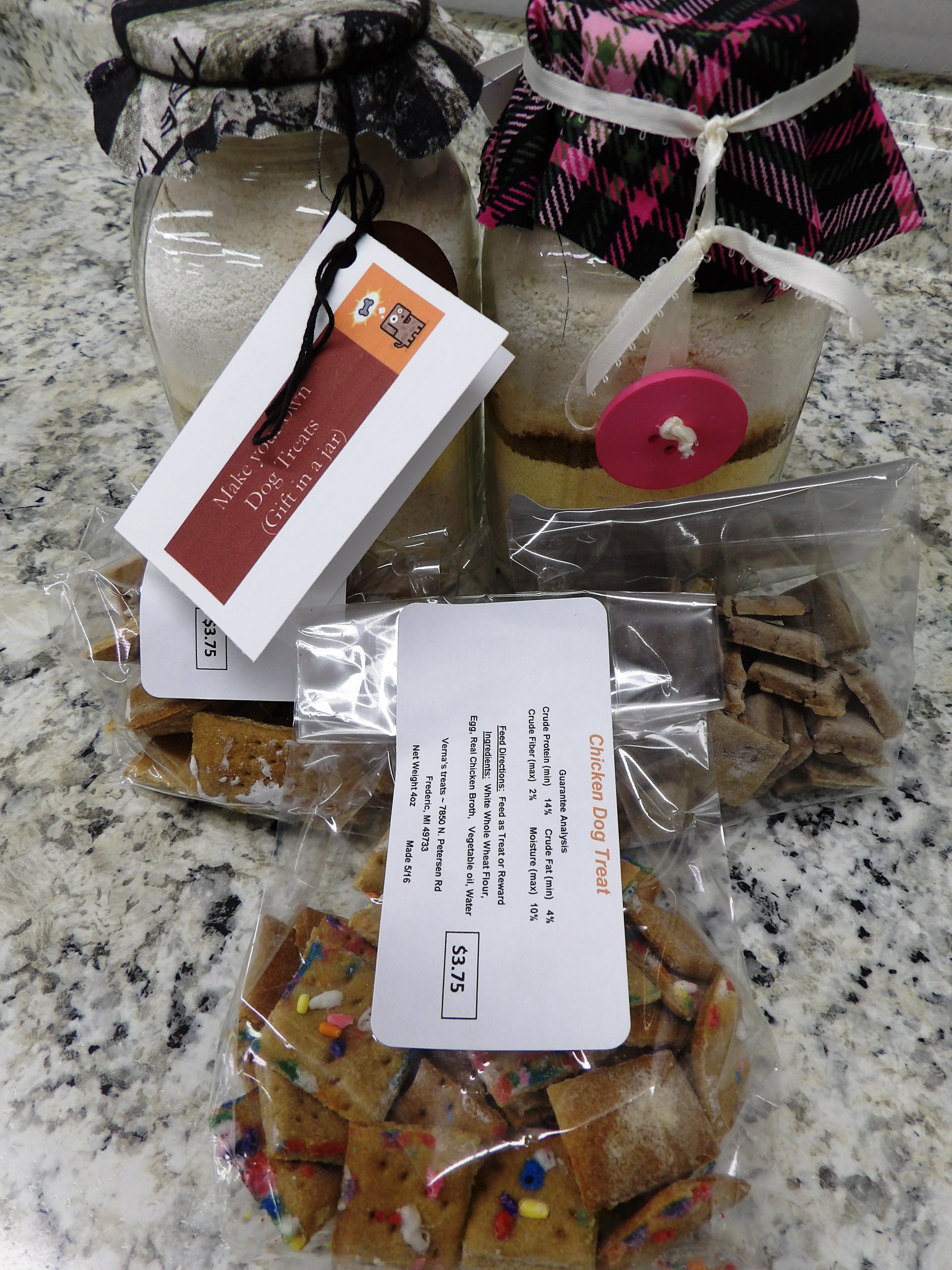 It's week 16 of our  Meet our vendors series, and today we would like to introduce you to Verna and her treats! Verna live is the Grayling area with her family including her 2 dogs Moose and Bear.
I asked Verna when this all started and she said it began around 3 or 4 years ago and was in direct response to the large number of dog food and treat recalls that had been occurring. She was concerned, as most of us are, about how these recalls would effect the health of her boys. Instead of risking their health, Verna decided that she was going to solve the problem herself and Verna's Treats were born.
Each of her treats is not only made with the highest quality people and pet friendly products, but each batch is tested as it comes out of the oven by the experts, Moose and Bear. If it doesn't meet their standards, it doesn't make it to our store. Her flavors include but are not limited to cherry, peanut butter, banana-orange, chicken, cheese and even green bean, though new flavors are added occasionally. Each of these flavors is made using only the best ingredients including real cheese and bacon, high quality peanut butter. Even the green beans come right from Verna's own garden! As for flour, she uses only a white whole wheat non-gmo or for those dogs with allergies, she will use a rice flour. No preservatives are used in any of the treats ever.
Verna and her treats have been a part of our store since the beginning. We have many returning customers that come back over and over again for their treats and her special treat jars as well.  We are proud to carry such a wonderful product that we know for certain, is safe not just for anyone's four-legged family member, but for ours as well.
Verna will vary her treat sizes upon request and will even make smaller or larger bags depending on your needs. Pick up a punch card when you are here and get it punched 6 times as your 7th bag is free with your completed card!
Verna is State of Michigan licensed.
Comments