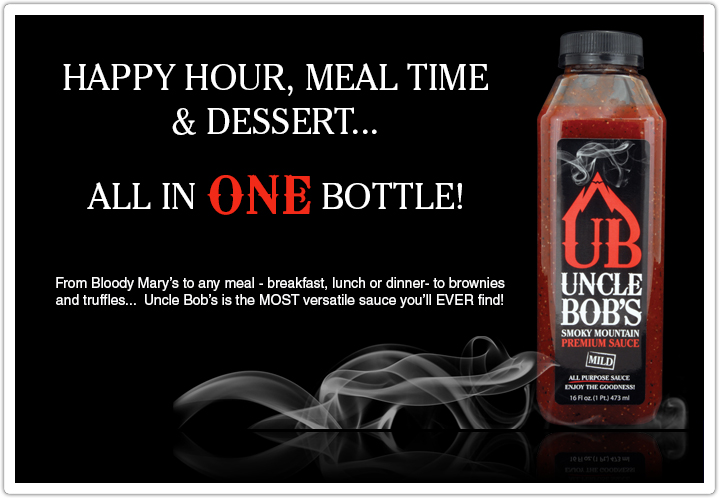 While we have been taking lots of time recently to share all the fun new craft beers we have been getting, we have also been adding plenty of other GREAT Michigan foods, gifts and more including this exciting addition, Uncle Bob's Smoky Mountain Premium Sauce!
Just last week we were approached by someone who both knows and loves this great sauce and thought we may be interested in carrying it in our store. Well, they passed along our information to the great folks at Uncle Bob's and they gave us a call! We struck a deal and now, we are pleased to say that Tip'n the Mitten now proudly carries this fun Michigan made product.
Hailing from Frankenmuth, the story of this sauce is one of family and tradition. A family recipe which has been handed down for generations, Uncle Bob's was first created in the mountains of Tennessee. Different than anything else in our store, this fun and tasty new product is made even better because it is shelf stable and need not be refrigerated, perfect for camping or staying at the cabin.
Here is a bit more about Uncle Bob's as taken from their website:
Uncle Bob's is an old family recipe that originated in Tennessee some years ago. It was created during the time of ice box refrigeration when space was limited and freshness of the essence. So, it has been designed as a vinegar based sauce to need no refrigeration, stay fresh, and the best part of all , get better with time! Because it originated in Tennessee and that is where we hail from, we decided to keep the name as close to our roots as possible. That is why we call it "SMOKY MOUNTAIN", though it is proudly produced in Frankenmuth, Michigan.

Our sauce is created with a special blend of ingredients that keeps true a unique southern flavor. What makes this all purpose sauce stand out above the rest is its compatibility with virtually any recipe. The versatility of Uncle Bob's Smoky Mountain Premium Sauce allows for countless uses. Whether used as a finishing sauce for its own savory flavor or as an added ingredient to enhance the taste of your favorite recipes, UB sauce is sure to become an integral ingredient in each meal.
If you would like to know more about Uncle Bob's, check out their website or find them on Facebook here!
Samples of this and other products in our store are ALWAYS available for you to be able to try before you buy! This is just one of the reasons you can be proud to shop at Tip'n the Mitten. More than just a Michigan made store, we are proud to be able to set ourselves above the rest by not only featuring our vendors and getting to know them, but offering you the chance to get to know them too!
Stop by Tip'n the Mitten and find out what makes us the best place to get all the best Michigan has to offer!
Comments