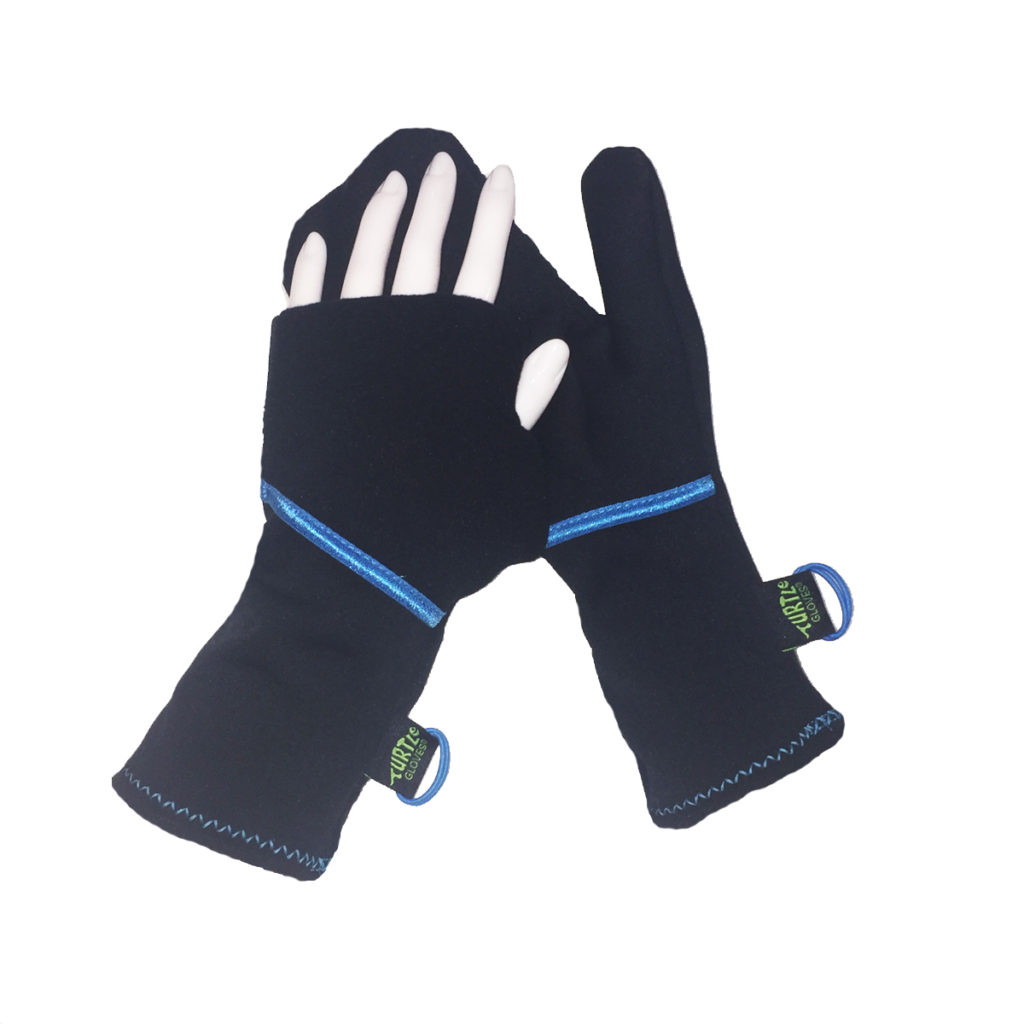 Although we are in NO WAY wishing for cooler weather…it is time to at least START thinking about cooler weather and what better way to do that than with mittens!! We are excited to welcome one of many new vendors this summer here at Tip'n the Mitten, our new friends from Turtle Gloves! (no turtles were harmed in the making of these gloves).
From their website:
We are Michigan Makers of Innovative and Patented Fingerless Gloves, Mittens, Apparel and Accessories. We design and build these products for Fitness, Fashion, Sports and Everyday. Curiously Engineered, TURTLE GLOVES were born in Michigan out of necessity, with a sense of fun. Turtle Gloves are ready to move with every change in the weather. While they share numerous functionalities, two very different designs of TURTLE GLOVES each have their own U.S. Utility Patent.

TURTLE-FLIP MITTENS – Clever, low-profile convertible mittens, interchangeable for either hand with a full mitten flip-over function complete with thumb. Easily convert to fingerless mode with a simple flip, no need to change the thumb that naturally folds into place. Slide glove to arm or fold onto wrist instead of removal. Available in Lightweight, Midweight and Heavyweight technical fabrics from Polartec making them perfect for running, hiking, dog walking, ice fishing etc.

REVERSIBLE FINGERLESS GLOVES – Strictly a fingerless design, interchangeable for either hand and fully REVERSIBLE, Two-Gloves-in-One. The unique construction allows designers to create a variety of fashion options or to develop special-use gloves with technical fabrics, such as non-slip, water repellent and windproof. Slide glove to wrist instead of removal. Multiple warming options including a large space to add a heat pack. Add task-specific liner gloves for dexterity, such as non-slip or smart phone touch-sensitive, using the Turtle Gloves as a warming layer.
The perfect gloves/mittens for any reason and any season, we are excited to sell these amazing new products! Come on in and check out the designs we have in stock!
If you would like to learn more about Turtle Gloves, you can check them out online at https://turtlegloves.com or on social media on facebook or instagram!
Comments