Well we are back to the grind and ready to  introduce you to another of our amazing vendors. This vendor has been with us since last year. She makes a product that most are familiar with however, she does it unlike any other.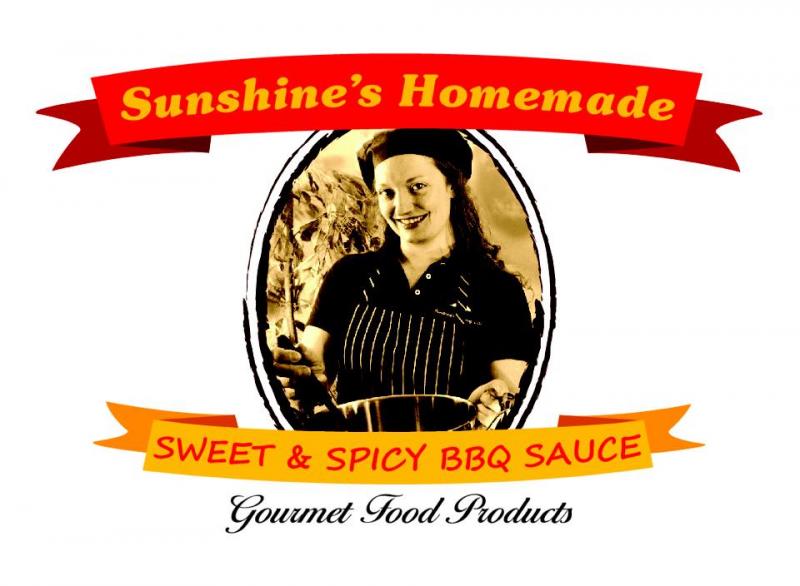 Sunshine's Homemade has made a name for herself for the quality and for the flavor of her product. She currently offers two great products including both a BBQ sauce as well as a Carolina Gold Sauce. Her most well-known sauce however, her BBQ sauce, has become known for its great flavor. While other canned sauces use only onion powder or minced onion, Sunshine's spends the extra time cutting and caramelizing her onions to perfection! The Carolina Gold sauce may be for pork and as a cooked sauce, but around here, it has become a favorite dipping sauce for meat sticks from Little Town Jerky!
In addition to great products, we are happy to call the owner/creator and operator of Sunshine's Homemade, our friend. Sarah started out with a dream to provide others access to her food creations and has quickly made that dream come to fruition through dedication and hard work.
From her website:
"Hello my name is Sarah aka Sunshine.  Sunshine's Catering, LLC was inspired by my food sensitivities and passion for nutrition and cooking.  I am a non traditional professional chef and have a unique combination of skills,education and experience that I feel has lead me to become the personal chef I am today.  I began reading recipes as soon as I was tall enough to see the recipe cards in the stand at my local Feldpausch grocery store.   Being a young mother I began making Thanksgiving dinners as soon as I could and to this day can whip up quite the feast with no help at all….and my food is on time….I cook from scratch, promote health and wellness, gardening, use foods from local small businesses and farmers markets, and my goal is to teach people to lead a healthy lifestyle in their own home, and if needed provide them with the food they need stocked up as often as needed. Let me cater to you."
Sunshine is currently working on another great new sauce and rest assured, the moment it is ready to sell, you will be able to find it here at Tip'n the Mitten!
To learn more about her great recipes or to follow Sarah on Facebook, you can find her website at www.sunshinesoasis.com and here on facebook.
Comments