Spring has sprung and for many Michiganders, one of the best parts of spring is in full swing, maple sugar time. Sugar bushes around the state have been tapping trees for weeks now and in many areas, the sap run has already slowed as the trees begin to bud!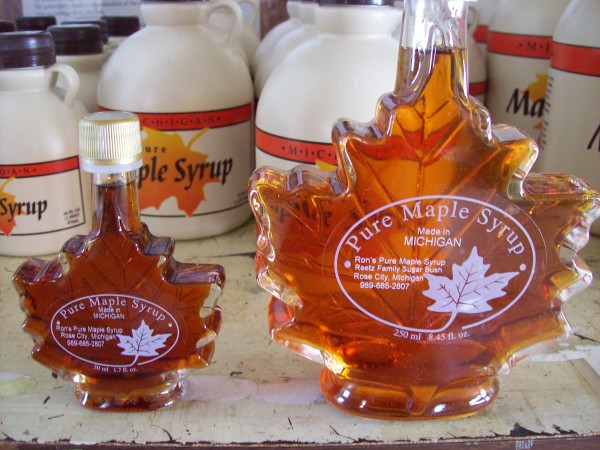 Here at Tip'n the Mitten, this time of year is very important to a couple of our vendors, including one of our sweetest, Ron's Pure Maple Syrup from Rose City, MI. Not only do they provide us with amazing syrup but also tasty maple candies throughout the year, a fun way to enjoy some sugar without all the chemicals found in other candies! In addition to great products, we love the personal touch we always receive from Debbi, who is always willing to fill our orders quickly no matter what time of the year and who honestly cares about the quality of each and every product they produce! We invite you to spend a moment getting to know more about this great Michigan vendor and what makes them special.
The Reetz Family Sugar Bush has been producing syrup for generations. In fact, the sugar bush itself was established in 1872 and has been producing high quality maple products ever since. Today, Ron's Pure Maple Syrup has become a well-known name throughout the state and we are proud to be able to carry many of their wonderful maple products since we first opened.
From their website:
"Since 1872, pure Michigan maple syrup has been produced on the Reetz family farmlands of Ogemaw County. Every year, the majestic stands of sugar maple are tapped to produce sap by the tens of thousands of gallons. By mixing age-old tradition with modern technology, Ron's Pure Maple Syrup crafts the delectable maple syrup, sugar, and other tasty products that countless folks yearn for come breakfast time."
A proud family tradition and a favorite of thousands of Michiganders around the state, we invite you to come in and taste for yourself what makes this vendor one of our favorites!
To find out more about Ron's Pure Maple Syrup, visit their website here!
Comments