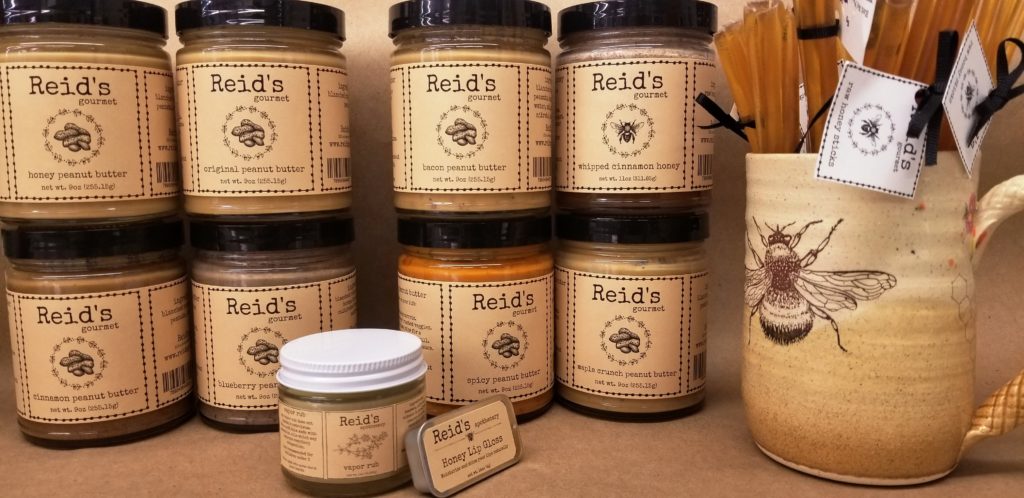 We are excited to announce another great addition to Tip'n the Mitten! We would like to welcome Reid's Gourmet to the list of amazing Michigan-made vendors you won't want to miss! A great Michigan company, Reid's Gourmet is based in Holland, Michigan. Missi, owner and operator of Reid's Gourmet is the creator of some of the tastiest peanut butters you could imagine! In addition to her peanut butter line, she is also a beekeeper and makes a number of wonderful products from her raw honey including salves, lip balm, honey sticks and a whipped cinnamon honey you won't believe!
From her website:
My name is Missi. I'm a single mother and PB and honey lover concerned about what ingredients are in the foods I'm feeding my son. I found that with determination and a little extra time, I can make high quality, great tasting, healthy meals. In my quest to share nutritious and delicious foods, starting with two products from where this journey began, Reid's Gourmet was born.

The name Reid is my Grandpas' middle name. He had a loaf of bread and a jar of peanut butter at every meal. Honey was always another staple in our house. If it wasn't a pb and j sandwich for lunch, it was a honey and peanut butter one.

My raw honey is a wildflower mixture, primarily red and white clover, star thistle with a little blackberry, raspberry and wildflowers.

My natural peanut butter is hand-made in small batches with blanched, roasted, salted peanuts, spices, dried fruit and bacon pieces.
While we don't carry all her products, we do have a number of them including all the peanut butter's including:
Plain

Bacon

Honey

Cinnamon

Maple crunch

Spicy

Blueberry
Other products we carry include :
Whipped cinnamon honey

Honey sticks

Lip gloss

Vapor Rub
Tip'n the Mitten is proud to be the only store carrying these great products in northern Michigan! Best of all, we have samples available and you won't believe how great these products taste! If you would like to learn more, you can follow Reid's on facebook at facebook.com/reidsgourmet, on Instagram at instagram.com/reidsgourmet or check out her website at reidsgourmet.com.
Comments