Our next featured vendor is one many of our customers already know, Pam's Pantry. A dip mix master, Pam's Pantry has created dozens of amazing taste treats perfect for a night at home, a special event or anytime at all.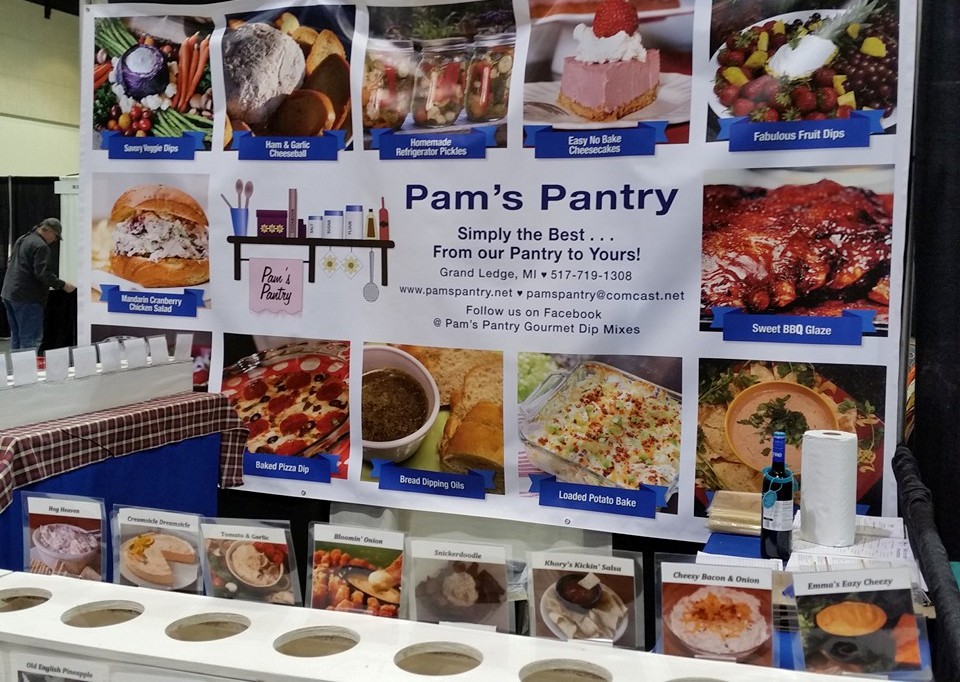 Not long after we opened the store, someone mentioned that they were looking for the dips that they always got at the markets here in Grayling and in other cities around the state. After a little investigation, we found out that this elusive vendor was called Pam's Pantry.
Pam's Pantry has created quite a name for themselves not just here in Grayling but everywhere they have gone. Tasty to eat and simple to make, these dips, fillings and spreads can complete any meal. Not long ago we were happy to have been able to meet Pam herself at a tradeshow we attended in Lansing. Not only was she great to chat with, she had TONS of extra flavors of dips that we had never tried yet which made our time just that much more pleasant.
Now that we shared how Pam's Pantry ended up with us here at Tip'n the Mitten, we wanted to tell you a bit more about this great business and how they got started.
From their website:
"One question I am always asked is, "How did you get started doing this?" Let me back up a bit here and briefly fill everyone in on our story.

Pam's Pantry was borne out of sheer desperation. Two years into our mid-life crisis (that is what we will call it, otherwise known as Worker's Comp Lawsuit), that resulted after my husband, Kerry, was injured at work, we found ourselves faced with, hmmmm, let's say, new opportunities.

Two years of running a household on only one income, that was accustomed to two incomes and the main income was gone, I can honestly say things were a bit interesting at our house.

Two choices, cave in, admit defeat, throw in the towel, or, (I don't give up easily), pull up our bootstraps and get going!

With a natural love of the kitchen and a love of experimenting and serving up my experiments, dip mixes seemed the natural thing to try to venture into.

As my sister and I talked about getting started, we received word about a craft show that very weekend. With the help of family members, we stayed up half the night, threw together four mixes, packaged them up, grabbed up some candle arrangements we had done and headed off to our first craft show.

We were scared silly!

Didn't have a clue what we were doing.  Good God, what was I thinking!

In any case, our fears were put to rest, we made our first sale, and then another and before we knew it there was a line at our booth and people were three and four deep. Woo Hoo! It was great, almost sold out, we were off and running. Needed a nap!

Orders started coming in via email, people loved the product! We booked into every show we could find up until Christmas. It was a dream come true!

We were meeting lots of new friends, doing something that we loved and paying the bills! We expanded the following year adding about 10 new dips and prepared to hit the craft show circuit. Still in need of that nap!

Today, with the help of many family members, friends and satisfied customers, I have a growing, thriving business.

Kerry is still struggling to regain complete use of his shoulder and continues to hope to return to work. Not sure what we will be faced with down the road, there are still some obstacles, but we will deal with them as best we can.  We did win our case and do have some normalcy back in our lives, amidst my new chaos.

We are blessed to have the family and friends that we have and are doubly blessed for the new business friends and acquaintances Pam's Pantry has brought to us."
We are happy to carry Pam's Pantry here at Tip'n the Mitten and invite you to stop in and give some of her great dips a try. You will be glad you did!
If you would like to learn more about this popular vendor, visit them online at www.pamspantry.net or find them on facebook here.
Comments