In part two of our Meet our Vendors Series, we would like to introduce you to one of our top-sellers, Natalie Robyn's cherry products from Six Lugs LLC in Interlochen, MI. An amazing vendor dedicated to offering only the highest quality, each product offered by Natalie Robyn is fresh, tasty and one-of-a-kind. From the ever popular chocolate covered cherries and vinaigrette to the unbelievably tasty cherry garlic butter, salsa and more, you will never be disappointed by these great products!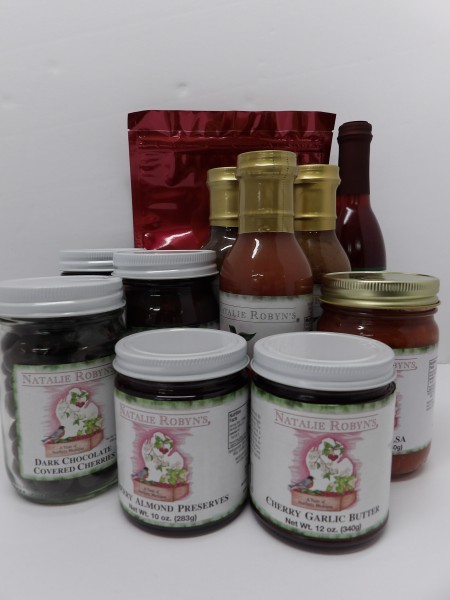 From their website:
The name Six Lugs originated from my childhood. My siblings and I picked cherries near Atwood, Michigan to earn money for school clothing. The kindly farmer paid us $1.00 per lug (about 4 cents/pound). On the typical day, I could pick three or four lugs. On a special day, I managed to harvest six lugs, hence the name Six Lugs. Working the farms quickly taught me how to spot the best of the best cherries, and I only used those to make the special Cherry Vinaigrette you're now holding.
Natalie Robyn's products have been a part of our store since we first opened and will hopefully continue to be a part of our long and still growing list of amazing Michigan vendors right here in Grayling, MI.
If you would like to learn more about Natalie Robyn's products, you can check out their website at sixlugs.com or better yet, come on in and visit us at Tip'n the Mitten and have a taste!
Come back again next time and find out more about another one of our great Michigan Vendors!
Comments