In part 21 of our Meet the Vendor series, we would like to introduce you one of our many authors. Ron Rademacher is a Michigan author who travels the state looking for great places. From must-see attractions to the best trails and back roads, Ron does the work for you. To date, Ron has 6 books in publication including the Michigan Back Roads series, his ever popular 3 Day Getaways and his newest book, Trails and Treasures.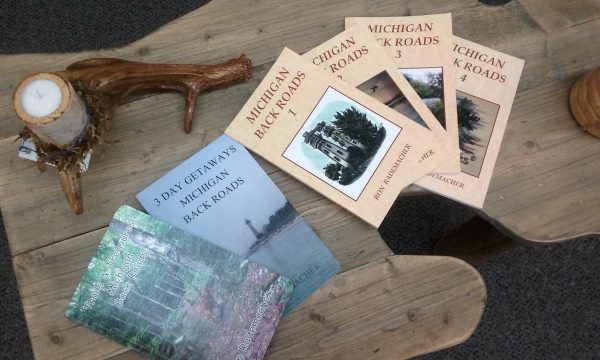 Have you ever just wanted to go out and find something new? Ron's books make that simple. It is like a real life choose your own adventure. Simply pick a spot in Michigan you feel like exploring and check the book. From unique shops to great places to eat, sleep and hike, Ron has a little something for everyone.
Ron has been writing and traveling the state for much of his life. When you talk to Ron, it is difficult not to be inspired to travel as well. Rather than featuring trails and destinations you may find in mainstream guides, this creative author searches out the more unique or lesser known trails and destinations for all ages.
In his Michigan Back Roads series, you will find destinations ranging from ghost towns to hiking trails and scenic vistas across the state. In his 3 Day Getaways, destinations around communities including Grayling, Port Huron or Sleeping Bear Dunes. In Trails and Treasures, Ron features a lesser known hiking trail in an area, sponsored by a local business. In Grayling, the trail is the Beal Plantation and the sponsoring business is Tip'n the Mitten of course!
We plan on inviting Ron to come visit us and tell us more about his adventures and his books this fall. In the meantime, stop in and pick up one of these great books.
To visit Ron online and learn more about other great adventures right here on our Great Lakes State, check him out online at MichiganBackRoads.com.
Comments