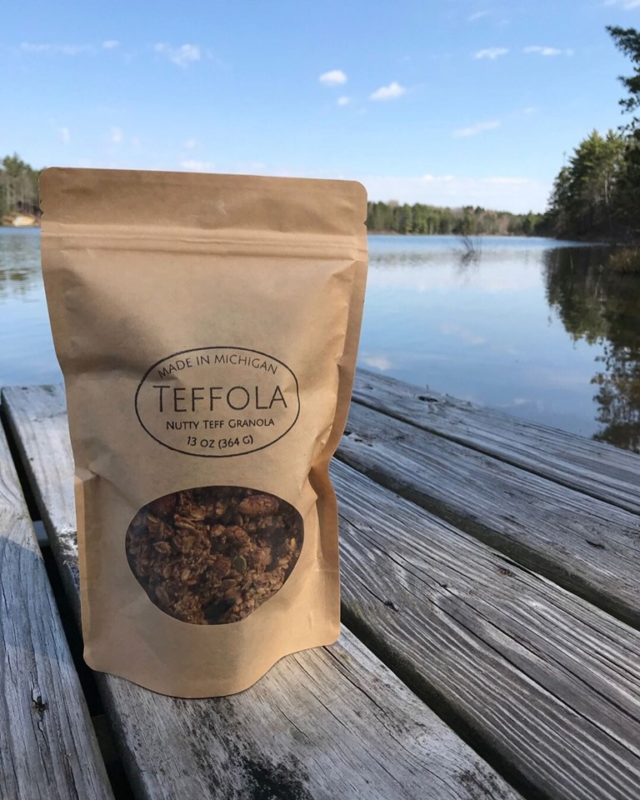 Meet the Vendor – Teffola – Nutty Teff Granola – We are very excited to introduce you to yet another AMAZING Michigan product. Teffola is a tasty, healthy, non-gmo product that you can feel good about eating! Healthy and incredibly tasty, Teffola has risen in the ranks as one of our fastest selling products! So what is Teffola?
Well Teffola is a granola made with an ancient grain called teff, grown right here in Michigan! As a former 4th generation farm family from southern Michigan myself, this product and the folks who make it (Claire and her family) are dear to my heart! Claire's family has owned and operated their farm in southern Michigan for 8 generations!!! Think about that! My family has only been here in Michigan for 4 generations!!! So when Claire walked into our store and told us about her product and the story behind it, we didn't even hesitate, she was in! So what is the story? Well here it is!
From their website:
"The Smiths have been farming corn and soybeans in southern Michigan for seven generations. But all that changed in 2015. My father, Brad, saw that prices were falling and knew he faced a choice: stick with tradition or adapt to save the farm. He chose to pivot and began growing teff, an ancient Ethiopian grain.

Seeing my father's dedication to the farm, I began working with teff in the kitchen. I wanted to introduce people to the healthy grain in an accessible and familiar way. After months of trials and tweaking, I came up with a nutty teff granola. We call it Teffola.

Teffola is more than just a tasty, healthy and fresh addition to your morning yogurt. Our vision is to create joy at every stage of Teffola. We bring joy to my father by supporting the farm. We bring joy to the Michigan suppliers we work with. We bring joy to the high-schoolers working with us at their first job. You are choosing joy when bringing healthy food into your home. And now, you can create impact that echos further than your breakfast table."

So what is Teff? Well here is more about this tasty grain:

Teff has been around for thousands of years – but here in the States we're just getting acquainted. Originally from Ethiopia, the plant looks similar to very tall grass. And even though it's in the wheat family, teff is naturally gluten free and not genetically modified. Most teff is milled into flour and used in the Ethiopian bread injera which is kind of like a sourdough pancake. But at Tenera Grains, we prefer the whole grain because the less processed our food is, the better we feel."
We invite you to come and sample this fantastic and healthy new product when you come to Grayling! If you would like to know more about Teffola or Tenera Grains, follow them on their website at https://www.teneragrains.com/ or on facebook at facebook.com/teffchef.
Comments