As we continue forward in our Meet Our Vendors series, we now invite you to meet another of our many wonderful vendors, Carol Davis, aka Mama C, an amazing woman with a great story of success right here in Michigan.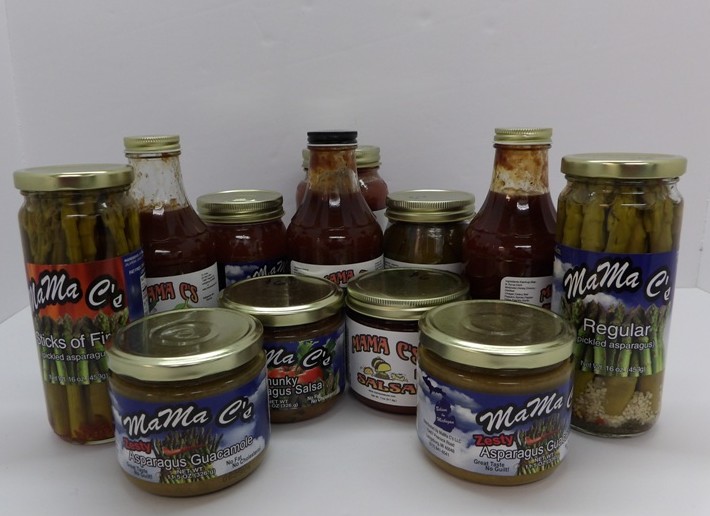 Mama C's Gourmet Products  began like most of our vendors, a Michigander with a dream. Mama C found us in July last year and we hit it off right away. She not only makes everything herself but also distributes it as well. She believes in her product and best of all, puts everything into each and every jar of asparagus, salsa, finishing sauce, guacamole, BBQ sauce and everything she makes.
While Mama "C" actually stands for Carol, we have always joked the "C" should stand for closer because she is great at selling her product! Once you taste it, you will understand why. She makes asparagus "classy", and better yet, she makes it great!
I asked her to share some details of how she got started and she shared this:
"I started the business after I retired.  My youngest son, John Buono, thought I should pursue my dream and make my finishing sauce available to everyone.  So, after building a processing kitchen and receiving all the proper licensing, which was in 2008, we were set to go.  The Finishing Sauce is all we had for at least 2 1/2 years.  The sauce gave us the money to build more product line and then we decided to do asparagus products.  The asparagus products were not as easy to sell as the sauce, however, I learned that if I would ask if you liked dill pickles, I could get you to try the pickled asparagus and usually it was a sale.

We, are a family owned business and made in Michigan.  We, have had some challenges along the way.  In the beginning, my husband and I worked long hours to get started.  He still worked and when he came home he chopped onions for me, and I would put all the ingredients together the night before and can the next day.  We, got a system down and he would come home from work and help, so that I could can during the day.  

The, first Craft Show we did was at Uncle John's Cider in St. Johns, Michigan and we ran out of product and our son helped us can that night and as we were going to the show the next morning the lids were popping as they sealed.  Looking back now it was a lot of fun and hard work at first, but now things run a little smoother."
Mama C is a great part of our store and we are pleased to be able to offer her unique and tasty product to visitors and residents alike! Stop in sometime and have a taste for yourself! If you would like to find out more about Mama C, check her out online at 
www.mamacssauce.com
or on Facebook
here. 
Comments