Today we are featuring a vendor who has been a part of our store for over 3 years! We would like to introduce you to Light of Day Organics, an organic tea farm in Traverse City, Michigan.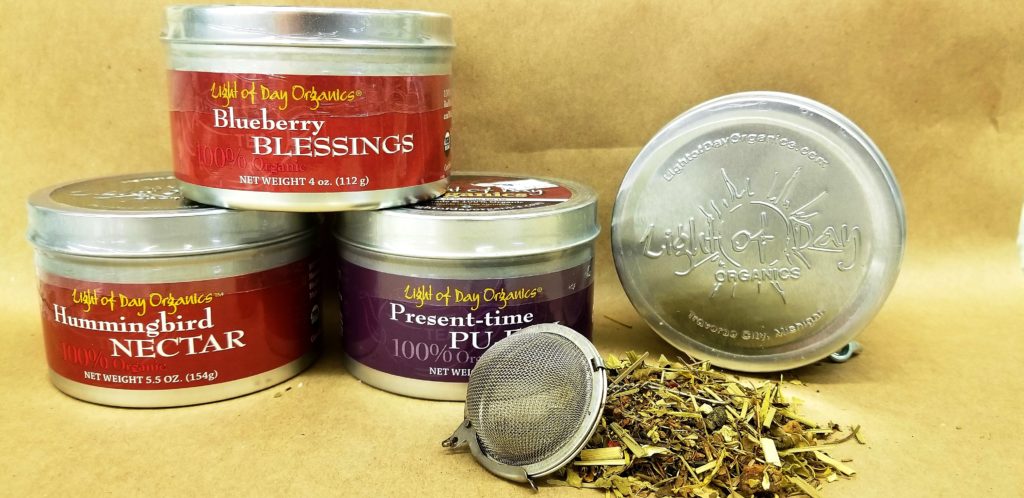 When we first approached this unique Michigan-made company, our intent was to sell tins right away, however, Angela, owner and operator of Light of Day, had something different in mind. She welcomed us to come to the farm and learn more about tea. We were interested so we headed off to learn more about tea! Who would've thought! After 2 hours, plenty of tasting, conversations about health and some eye opening experiences, we left with our first bags of loose-leaf tea. It was like nothing we would have ever imagined!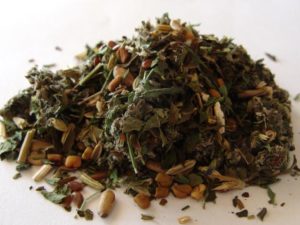 For most Americans, tea is just a box with little bags of good smelling dust that you soak in a cup of water. Little did we know, REAL tea is so much more! More than just leaves. More than just plants. Tea is healthy, it is natural and it can heal! From white and green to black and matcha, tea is so much more than a little bag in a box. We learned how green teas are made…the difference between green and white and even tisanes and what makes caffeinated tea! Did you know that caffeine in naturally created in tea by "rusting" the leaves? Natural caffeine, no processes besides just nature and time makes a great black tea! Did you know that white teas are the newest and freshest leaves, picked before they even unfurl on the plant? Did you know matcha has 137 times more antioxidants than a cup of green tea, are shown to help lower blood pressure and cholesterol and help reduce risk of cancer? We didn't!
Anglela is a strong proponent of the health benefits of tea and ensuring that those who sell her tea, know what makes tea so wonderful! Light of Day Organics is also the only Certified Organic and Demeter® Biodynamic commercial grower of Tea Plants (Camellia sinensis) in North America! Here is more about this great business from their website:
"Light of Day Organic Farm and Tea Shop is a Northern Michigan company, located in gorgeous Leelanau County, just 8 miles West of historic downtown Traverse City.

Our company was founded by a Traverse City Mom named Angela Macke in 2003. Her background in Holistic health, as both a Registered Nurse, Educator, and Horticulturalist, plus her own positive experience utilizing gentle, natural rhythms to restore balance in her own life as she successfully manages an auto-immune disease she was diagnosed with over 25 years ago, plays an integral role in the creation of each and every blend of Tea. Angela believes that a holistic approach is the most effective way to restore optimal health and a sense of well being. Helping her customers to create healthy lifestyle habits that support the prevention of illness, and to increase their overall vitality and passion for life is Angela's intention as she continues to tend to her farm and her customers.

Our exceptionally high quality botanicals are hand-harvested, dried in our licensed commercial farm kitchen, and packaged with great care. With each step in the process, positive intention and prayer for your well being is offered up. We blend all of our private recipe teas in small batches to promote consistency, to maximize freshness and with the intention of offering them to you in their most pristine state so that you may enjoy the maximal nutritive benefits as Mother Nature intended.

Here at Light of Day Organics®, we believe in authenticity! This means supporting local and foreign farmers through third-party verified (which includes annual audits and product testing) of fair trade commerce practices, growing certified Organic and Demeter® Biodynamic ingredients and when necessary, outsourcing only 100% certified Organic agricultural commodities (spices, seeds, rare barks, specialty teas etc.- if we cannot grow enough of them ourselves here in Michigan). All of our products are Gluten-free, Non-GMO, Kosher compliant, and we process in our facility that just processes our ingredients (so no chance of contamination by dairy, nuts, gluten, etc.).

We believe in presenting these products in their most natural, loose form. They have been packaged in lovely, domestically-manufactured, polished silver tins to protect them from the elements. We used a local designer, and local printer for soy-based ink labels and other packaging needs using Earth-friendly sustainable materials. We hand blend to completion in small batches, then package and label our teas right here in our farm kitchen.

We wanted to make sure that taste wasn't the only thing to feel good about. Ensuring the highest quality of tea for you and life for those who bring it to us is part of our mission. We honor all of those involved in bringing this extremely labor-intensive crop from the fields to our cup by paying everyone a proper living wage and encouraging the spiritual sacredness of the family unit and community with time off from work to recharge and to play in this beautiful area that we are blessed to call "home".

It is Light of Day's sincere intention that you may enjoy balance and reach your full potential as a human being! We want for everyone to enjoy superb health, inner peace, joyfulness, and be on a well-lit path that will benefit the greater good with all that you do. We hope that you will discover, (and hopefully learn to cherish), the ancient and life-giving ritual of having a "spot of tea."
We are proud to carry a number of teas and tisanes here at Tip'n the Mitten! We have a number of tins available to purchase in addition to tea by the cup and also loose-leaf tea by the ounce as well, stop in and see what we have to offer!
To learn more about this great company, check out their website at lightofdayorganics.com or better yet, head to the farm! You will be glad you did 🙂
Comments