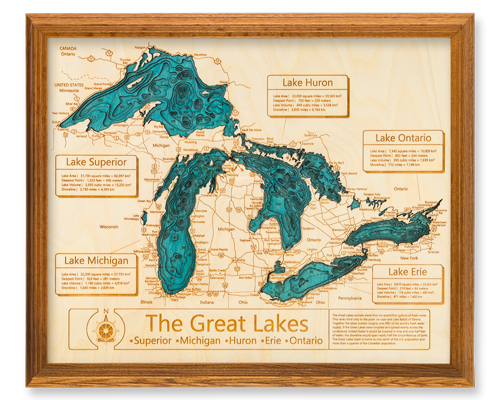 Tip'n the Mitten is excited to carry and provide access to the original lake art producer in the country! Made right here in Northern Michigan, Lake Art is located in the lovely community of Harbor Springs. From clocks to notebooks to wall hangings and more, these amazing pieces are ready made or can be customized with your own address, name or even the lake/river of your choice!
Founded in 2002, Lake Art is a small family owned business creating over 5,000 unique pieces!
From their Facebook page:
We are a small family business located in Harbor Springs, MI. We have a staff of graphic designers, laser operators, and wood specialist who take the time to create your map with care. Work with our graphic designers to customize your piece today.

Lake Art offers an array of products from wall-mounted framed art to practical gifts for the home, cabin and cottage.

A unique piece of Lake Art is available for you to cherish and proudly own – if we don't have your favorite lake on file, we will make it for you!

Each Lake Art product is custom made in Harbor Springs, Michigan.
Even easier, if you tell us what you need, you can deal directly with us without any additional charges, that means we do the work for you! Then we get your product drop-shipped directly to the address of your choice. Since we began carrying these lovely pieces in the last 2 months, we have ordered and shipped custom orders to around 10 different locations! We have also had custom pieces of the Ausable River made just for Tip'n the Mitten as well as wall pieces for Bear Lake, Lake Margrethe and Higgins Lake!
Stop in and check out our large selection of pieces or custom order that perfect piece for Christmas today! We are here to help!
Check out this great video from their website of how its made!
If you would like to know more, check them out online at lake-art.com or on facebook here.
Comments