In our continuing effort to allow others to get to know our great Michigan vendors, we now invite you to spend some time getting to know JB MetalworX.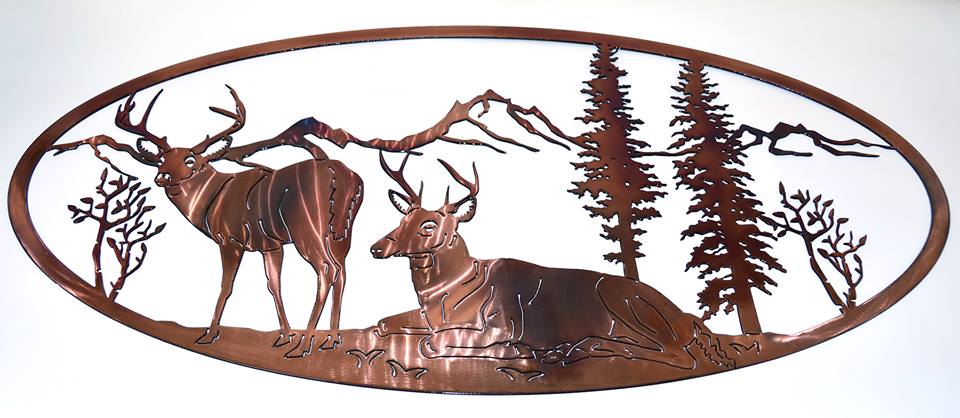 JB MetalworX is another of our first vendors. Here since the beginning, JB MetalworX  has been producing AMAZING custom metal art for us since we first welcomed them to Tip'n the Mitten in July of 2015. From the mighty Mackinac Bridge to Grayling canoe themed art, outdoors scenes to family trees, JB MetalworX has been awing us over and over.
From their website:
JB MetalworX is a small family owned business specializing in CNC plasma cutting in West Branch, MI. The business is diverse in it capabilities. With over 20 years experience in computer aided drafting and design, personalized and unique metal art is well within our capabilities. The company has also helped other small manufacturing companies with small run and prototype projects.
As with many of our great Michigan vendors, owners John and Beth are much more than just someone who "sells their art in our store", they are friends who have amazing talent and a desire to share this with others. It is their dedication to quality and desire to make beautiful art that makes them a vendor we are proud to showcase not just today, but everyday.
Always willing to come up with a new idea or recreate another one that we love, JB MetalworX is a Michigan vendor you won't want to miss. To find out more, check out their Facebook page, their website or just stop by Tip'n the Mitten!
Thanks for spending time getting to know our many wonderful vendors offering beautiful and or tasty Michigan made products here at Tip'n the Mitten. Come back again to find out more about other products and vendors we offer here in downtown Grayling.
Comments