Nestled high up in the tip of the Keweenaw Peninsula of Michigan's upper peninsula there exists a little monastery with a big name. The Society of St. John, located just 3 miles east of Eagle River, on Lake Superior, own a little shop which has grown to become the "premier" destination for not just cakes, goodies and your everyday jams and jellies but the hard to come by Thimbleberry jam. Each berry picked by hand and each batch stirred by hand, each jar is truly a labor of love.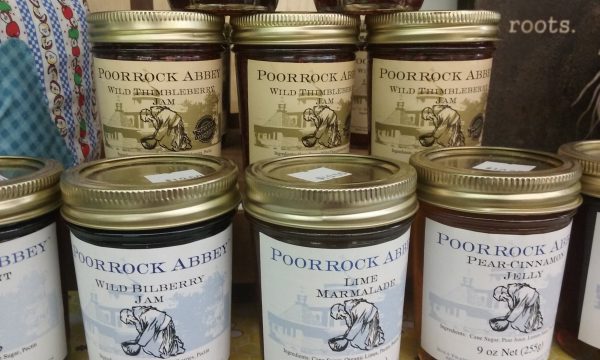 So, what is a Thimbleberry?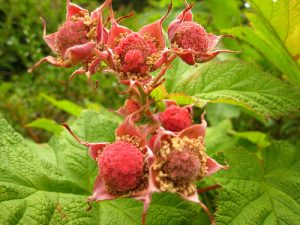 Also called Rubus parviflorus, a member of the "raspberry" family, this berry is found only in cool shady and often mountainous locations. In Michigan, the only place you will find these patches of berries is along the shores of Lake Superior. Much like a raspberry, thimbleberries are smaller and resemble a thimble, which is where they got their name. Thimbleberries are more tart than raspberries and are best when cooked and made into jams or jellies.
We are unable to buy items from the Jampot for wholesale as they have to little, so we pay full price and charge only enough to cover our costs. These items from the Jampot Monastery may cost a bit more than other products in our store, but we carry these for no other reason than because they are amazing human beings with an amazing product and a great story to boot!
More about the monastery:
We are a Catholic Monastery of the Byzantine rite, under the jurisdiction of The Ukrainian Catholic Eparchy of St. Nicholas in Chicago, and belonging to the Ukrainian Metropoly in the United States of America, which is in union with the Pope of Rome, supreme pastor of the universal Church. We embrace evangelical poverty, chastity, obedience, and stability of life, according to the Rule of Saint Benedict and the traditions of the Christian East.

In our skete at Jacob's Falls, on the shore of Lake Superior in Michigan's Keweenaw Peninsula, we devote ourselves to a common life of prayer and work for the praise, love, and service of God and for the upbuilding of His Kingdom through the Arts.
We invite you to find out more about these faithful servants and their cause. If you are ever in Michigan's amazing upper peninsula, be sure to make the time to head north to the coast of Lake Superior and the Jampot, you will be glad you did!
Comments