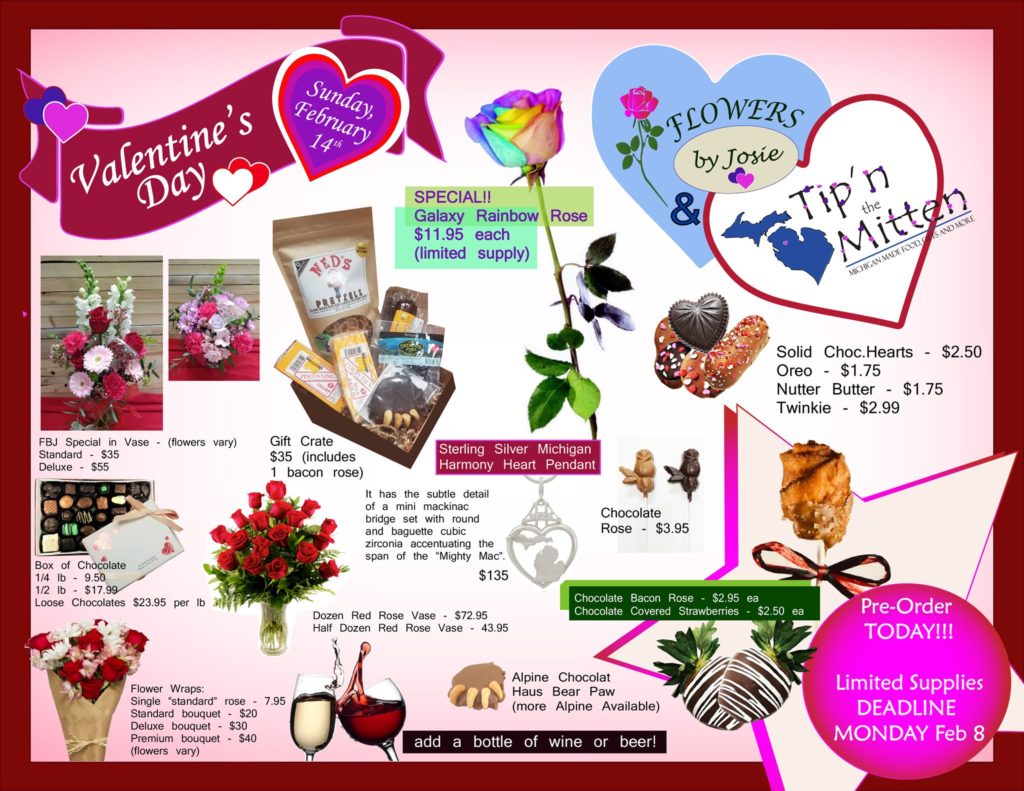 It's Valentines Day here at Tip'n the Mitten and boy is it shaping up to be a good one! It's not our first rodeo here at Tip'n the Mitten HOWEVER, it IS our first time as flower shop owners and it is a different world! We are working hard to make the most of our inventory and making sure you can find exactly what you need for your special valentine! This year, working together, we are offering the things you are already used to needing like flowers and chocolates, but adding new things! From chocolate covered strawberries, fresh made and delivered to us the weekend of Valentines as well as our new and exciting chocolate dipped bacon roses!!! The best Ebel's bacon, dipped in chocolate and sprinkled with love ;).
Pre-orders are suggested for most of our items due to limited supplies including our chocolates as well as our rainbow roses and gift crates however, preorder is REQUIRED for some things including the bacon roses and strawberries. If you have questions or would like to know more or even place you order, call us at Tip'n the Mitten at 989.745.4571 or at Flowers by Josie (FBJ) at 989.348.4006!
Happy Valentine's Day! Let us help you make your Valentine smile this Valentines Day with the best food, gifts and flowers that Michigan has to offer!
Valentine's Day Specials:
Vased arrangements – Standard $35 Deluxe $55 (others available)
Box of chocolates – 1/4 lb 9.50 1/2 lb 17.99 Loose chocolates $23.95 lb
Flower Wraps – single $7.95 Standard bouquet $20 Deluxe bouquet $30 Premium bouquet $40
Gift crate – $35 (includes 1 bacon rose)
Sterling Heart Michigan pendant – $135
Dozen red or pink roses in vase – $72.95 half dozen in vase $43.95
Rainbow roses $11.95 each while supplies last
Alpine Chocolat Haus (chips, seafoam, bear paws and more)
Chocolate roses and love – 3.95
Solid chocolate hearts $2.50 Chocolate Oreos $1.75 Chocolate Nutter butter $1.75 Chocolate Twinkie $2.99
DEADLINE TO PREORDER BACON ROSES AND STRAWBERRIES – FEB 8
(Limited supplies on Valentines Day)
Comments