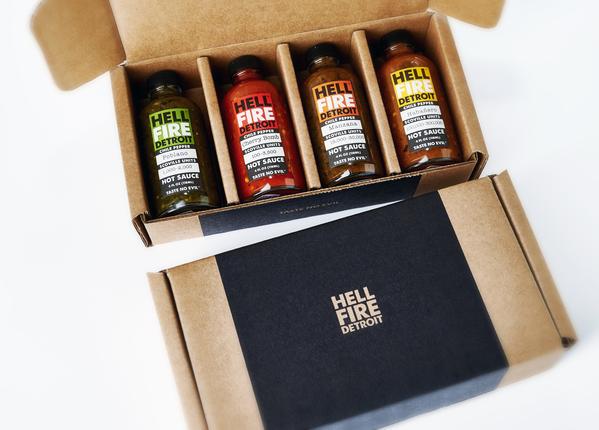 As if our Hell Fire Detroit hot sauces weren't hot enough, things are heating up for this great little business out of the Metro Detroit area.
Hell Fire Detroit makes hot sauces, and they are good! Don Buttons, founder of Hell Fire Detroit, has been delivering his tasty hot sauces to us for much of the time we have been a part of the Grayling Mi shopping scene. When Don stopped in the other day with a fresh batch of sauce for us to sell, we started talking about how the business was going and he mentioned that they were going to be a part of a new small business initiative being launched by Goldman Sachs.
The initiative, meant to encourage small business growth in the Detroit, will be offering small businesses like Hell Fire Detroit, a number of services and access to capital otherwise not available! Specifically, the 10,000 Small Business Initiative offers:
Business and Management Education: Small business owners will have access to a practical business education where they will develop a business growth plan to help them increase revenues and hire new employees. The education program will be delivered in partnership with Macomb Community College, Oakland Community College and Wayne State University.

Access to Capital: Goldman Sachs is committing $15 million of lending capital to support the small businesses community in Detroit and the surrounding region. Goldman Sachs intends to provide funding to two intermediaries – Invest Detroit Foundation and Detroit Development Fund – which will use the funds to make loans to small business owners in the area.

Business Support Services: Business advice, technical assistance and networking will be offered to participating small business owners through partnerships with community-based partners and national business organizations, as well as the people of Goldman Sachs.
An exciting and wonderful thing for this great Michigan business, we are excited for Don and for the future of this small Michigan business success story!
We are glad to have Don and his ever popular Hell Fire Detroit hot sauces here in our store. If you have never tried his sauces before, we invite you to come on in and give them a try any time!
To learn more about this great small Michigan business, check out their website at hellfiredetroit.com or on facebook at /www.facebook.com/hellfiredetroit/
Comments