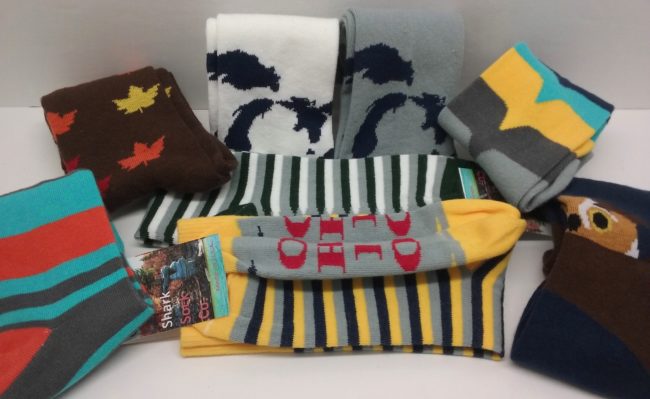 Happy new year! Here we are already in February and have been slacking here at Tip'n the Mitten with regard to our featured vendor series. Now that things have gone back to normal, we resume our regularly scheduled featured vendor series with a vendor we just welcomed to the store today! We would like to welcome Great Lakes Shark Sock Co! From the beautiful community of Pinconning, Great Lakes Shark Sock Co is a company who makes, you guessed it, SOCKS! Designed right here in Michigan, these socks are one of a kind!
A fairly new company, Great Lakes Shark Sock Co is owned and operated by Kevin Shark. Kevin is a veteran. He and his family stopped in today to check out the store and see if we would be interested in carrying their socks. Well, needless to say, we said yes. Our very first socks, these are comfortable, classy and created for Michiganders just like us. From their Pictured Rocks inspired design, to the Great Lakes, owls and of course, Ohio (not) socks, each pair offers you the opportunity to express yourself. What makes these socks even better is that Kevin has pledged to donate a quarter of every pair of socks he sells, to preserving and protecting the Great Lakes!
From their website:
Great Lakes Shark Sock Co. was created in 2016. We wanted a product that would be both unique and better our future. Our mission statement is "To provide comfort and security to not just our feet, but to what matters most to us." We live this statement in our work by making a quality sock and for attempting to make our future just a little bit better with our quarter program (you can learn more about this program here).

We try to live by our acronym "LIFE."

Loyalty

Integrity

Family

Expressing open minds

Family Owned & Operated

Our company is family owned & operated, as well as, veteran owned and operated. My wife and I truly believe family comes first, but we also both grew up in family businesses. It is very hard to put family first sometimes when running your own business. You may feel like you are putting family first, but the family feels otherwise. It may not be easy, but we do our best to successfully run our businesses and put our family first.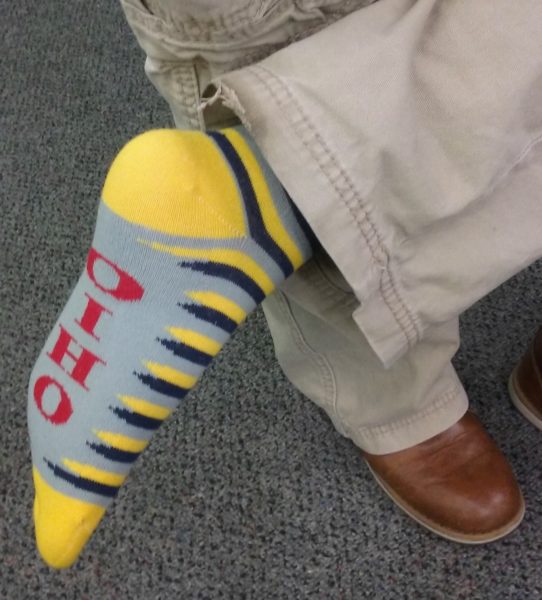 We are very pleased to be able to welcome this great new Michigan product to our store. Designed and tagged here in Michigan, these socks are made right here in the U.S. with U.S. grown cotton.
We invite you to come in and check out this great new addition to our store! Socks are $10 for crew and $12 for over the calf socks! Affordable and adorable!
Thanks for learning more about this new product here at Tip'n the Mitten! Check them out online at Great Lakes Shark Sock Co or follow them on facebook here.
Comments