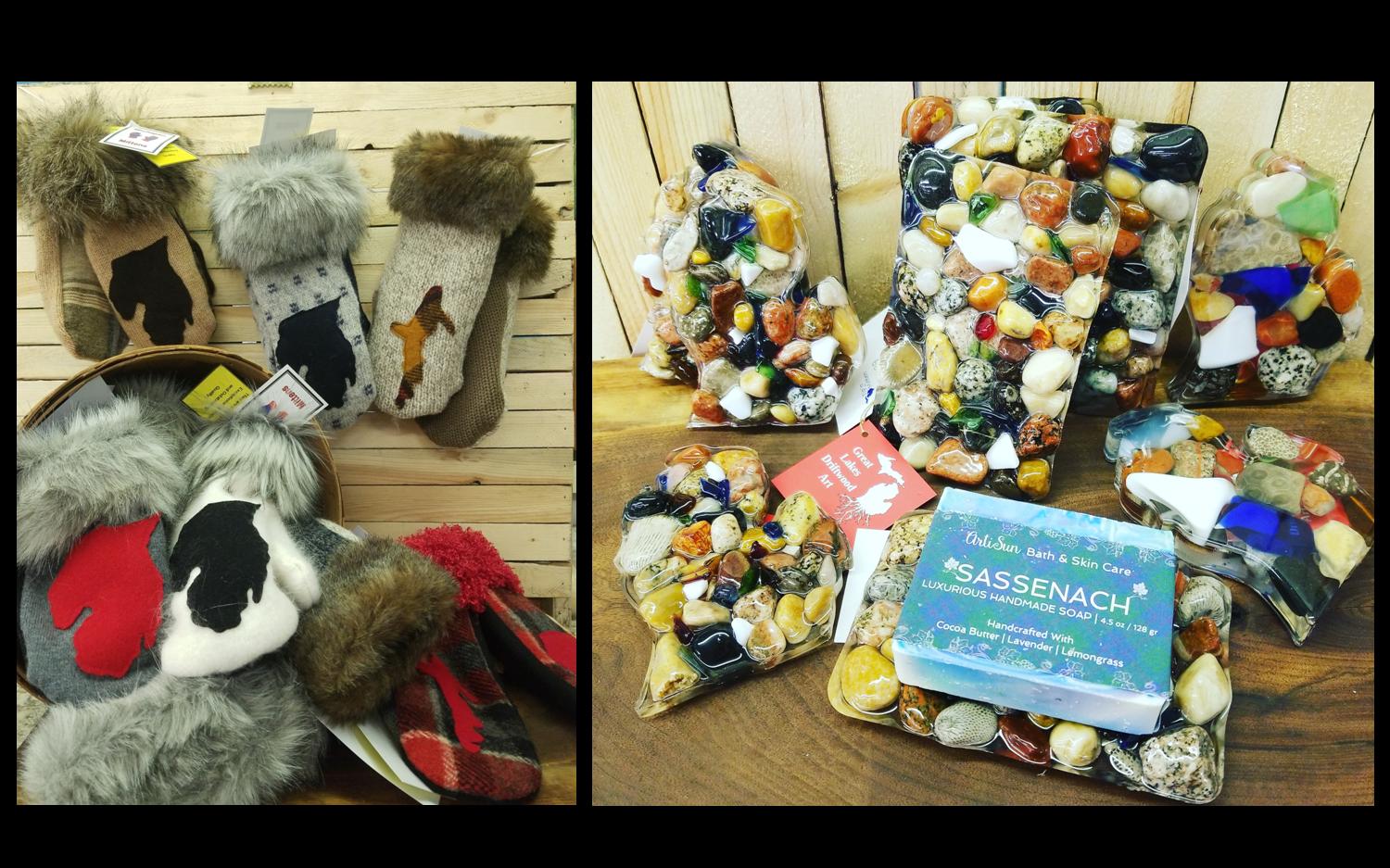 We are excited to introduce another great new addition to Tip'n the Mitten! Susan is retired from her first profession and has found herself a new niche in Northern Michigan! Retiring to lovely Rogers City, on the shores of Lake Huron, she and her husband are finally living the dream! We are extremely happy to welcome her to our store with her beautiful products.
Susans first addition to our store is Great Lakes Driftwood Art. Featuring Michigan's beaches and more specifically, its rocks, her stone inspired art is truly beautiful! Including Michigan shaped coasters and soap dishes as well as rectangular soap dishes, these beautiufl pieces are each hand-made and one-of-a-kind. Each includes a variety of Michigan rocks in resin. Rocks include agates, petoskey and charlevoix, granite, kona dolamite, unikite and many others.
In addition to the rock art, Susan is also a recycler of wool 🙂 Her wool mittens are all accented with lovely furs and feature the upper and lower peninsulas on the backs of the hand. Beautiful and unique, these fun mittens come in 2 sizes for younger and young at heart.
Like many of our vendors here at Tip'n the Mitten, this Michigander is not only talented, but caring about others including pets in the area. A supporter of Pays and Claws, Almost Home and Second Chance, all of your purchases from Susan, go to help animals including those animals who are at risk of being euthanized at kill shelters.
As animal lovers ourselves, we are pleased to be able to welcome Susan to Tip'n the Mitten! Stop in and check out her work the next time you are out shopping.
Comments