It's that time of year!!! We have spent the last few months hunkered down and biding our time waiting for summer and the tourist season to pick back up. Thanks to our amazing locals and our many returning customers from all over the state and country, we are pleased to say we made it another year! In fact, we are now in add mode and we would like to introduce you to our newest Michigan vendors, the Muddy Buddy Boys!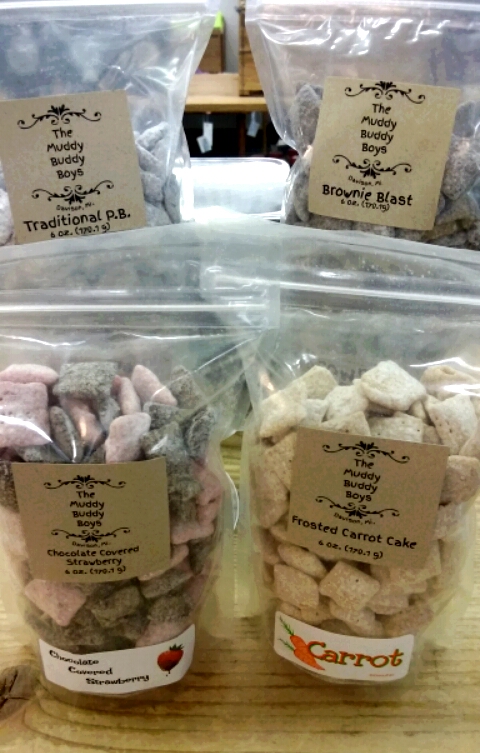 Made in Davison, this is a tasty treat, perfect for anyone who loves a crunchy sweet treat!
Mitch and Ken, owners/operators of Muddy Buddy Boys, stopped by this week with their first delivery to us here at Tip'n the Mitten and we had a chance to talk to them about this fun and tasty product. Mitch has been in food service for years and decided one day that this was what he wanted to do. He says he brought Ken along for the ride and here they are, almost a year later, in stores from Davison to Grayling!
Their flavors are varied and sometimes seasonal depending on the time of year. Currently, we carry a traditional peanut butter flavor, and a brownie blast as well as chocolate covered strawberry and their tasty seasonal carrot cake flavor!!
Other flavors we will on occasion be carrying include strawberry passion, blueberry blitz, key lime, punkin' spice, chai tea latte, hot chocolate, peppermint crunch and red velvet with cream cheese icing!!
We are happy to welcome Ken and Mitch to Tip'n the Mitten and look forward to plenty of years working together! If you would like a free sample, come on in and take a taste! For more information or to follow them online, check out the Muddy Buddy Boys on facebook at @themuddybuddyboys.
Comments