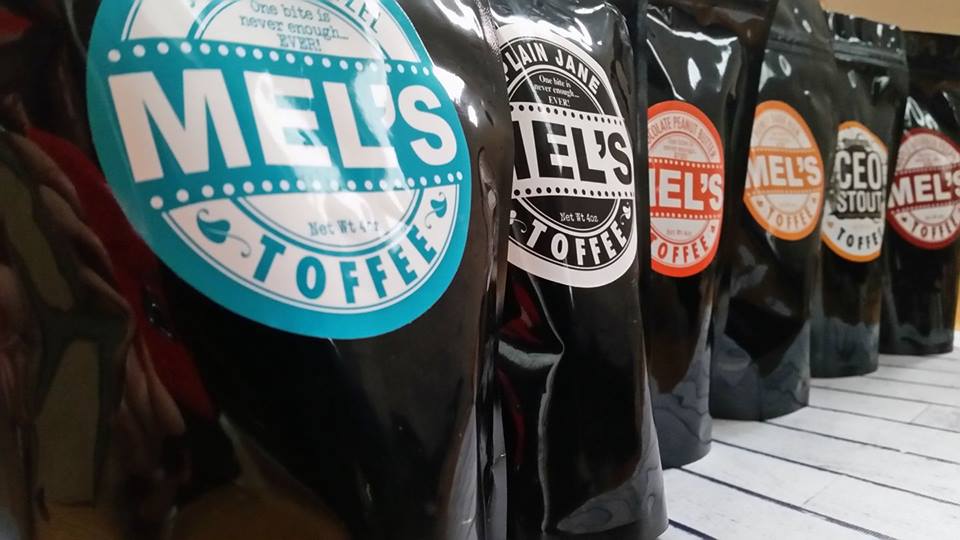 The last couple months have been a whirlwind! From great visitors to fantastic new products, we can't tell you where the time has gone to! The one thing we can tell you is that it has been our best summer yet! One of the most recent of our vendors is a wonderful toffee maker from Rochester Hills. Mel's Toffee is a fantastic small business who prides themselves on a quality product! Currently Mel's offers five flavors of toffee including:
CEO Stout Toffee
Plain Jane Toffee
Maple Bourbon Pecan Toffee
Dark Horse Chocolate Raspberry Toffee
Sea Salt Pretzel Chocolate
About Mel's Toffee
Mel's stands for Michelle (me) and our daughters Erin and Lauren. We couldn't fit my husband's name into the puzzle, so he became the "silent" partner.

Mel's started out as a Chocolate Covered Pretzel Company. We evolved. The company evolved. Times changed. We became more focused. We are now an award winning, premium ingredient Michigan Made Toffee company. And…if you think that's a mouthful, you need to try our handmade Michigan Made toffee. As the logo says, "One Bite is Never Enough…EVER". We mean it. SO….put your money where your mouth is and buy a bag or four today. You won't be sorry. We promise!!

Remember…One Bite is NEVER enough….EVER.

Love,

Mel's Toffee
We are pleased and excited to welcome Mel's to the Tip'n the Mitten family! Stop in for a sample! To find out more about this wonderful Michigan company you can find them on facebook at facebook.com/MelsToffee or online at melstoffee.com or right here at Tip'n the Mitten!
Thanks to all our customers as well as our new and not so new vendors that have all played an important role in the ongoing success of our store!
Comments