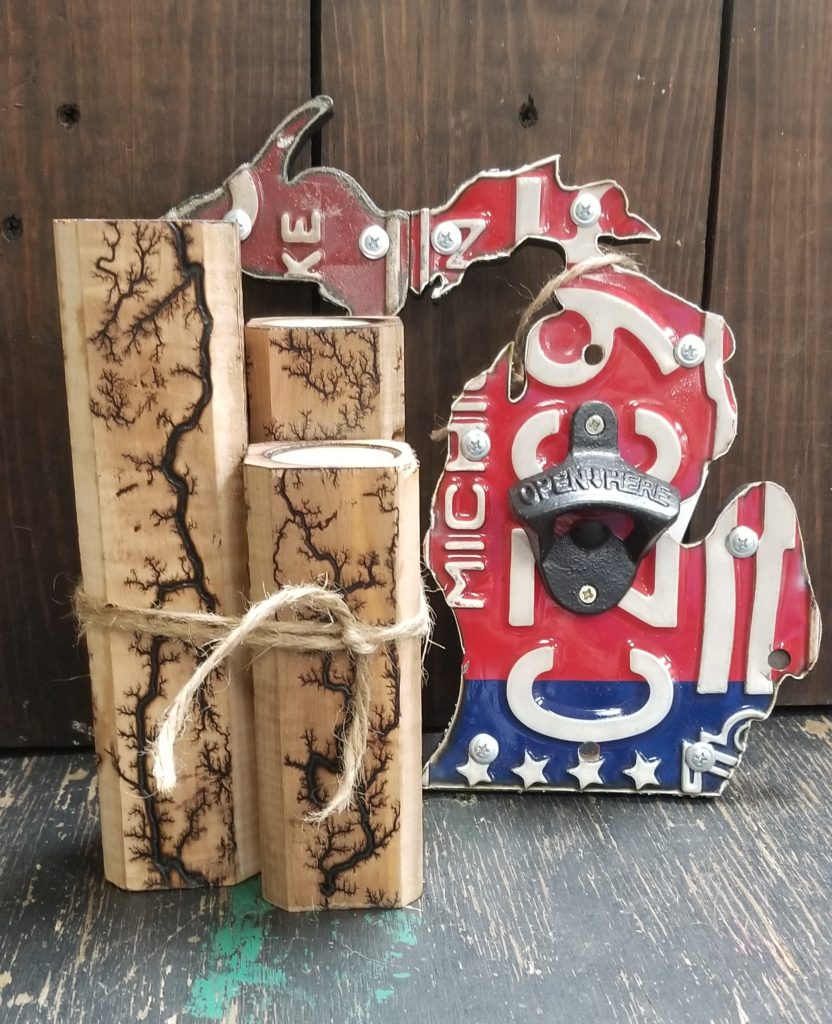 Tis the holiday season and this year, as in years past, we were pleased to have been featured in the MyNorth Gift giving guide! While we have always had a good return from our features, but this year has been one for the books! As such, I am getting in gear and getting our feature items on our website so you can purchase them from the comfort of your home anytime of the day or night 🙂 ! If you still prefer to order by phone, you can always call us during regular hours and we can take your order over the phone as well 🙂
This years feature products were from some of our favorite people including Recycled Highway and John and Laurie Yoder. Each of these amazing vendors have been a valued part of our store for years! Logan, of Recycled Highway has been a part of Tip'n the Mitten since we first started in 2015! He makes a variety of license plate art including this years feature bottle openers! These openers stand about 10″ tall and about 9.5″ wide. They vary in colors and plates depending on what he has available and also feature a magnet to catch the cap before it falls!
For the nature lover, candle sticks from John and Laurie Yoder may be just what you are looking for! These lovely candlestick holders have been one of our top wedding gifts for years! These beautiful candlesticks are wood, they feature "lightning volt art". In this process, 30,000 volts of electricity are randomly applied to the wood to create this unique look! Each set is about 8.5″ tall and each candle stick is about 2″ wide and ranges in colors from light pine to darker oak/cherry woods.
These are just two of our many custom and unique Christmas/holiday gift ideas! For more, check out of facebook page at facebook.com/tipnthemitten or for the extreme shopper, call us and have a virtual shopping trip in our store with one of our employees! Stroll the store virtually and check out our inventory! Call us for more information at 989.745.4571.
For more on the Holiday gift guide from MyNorth, check them out here
Comments