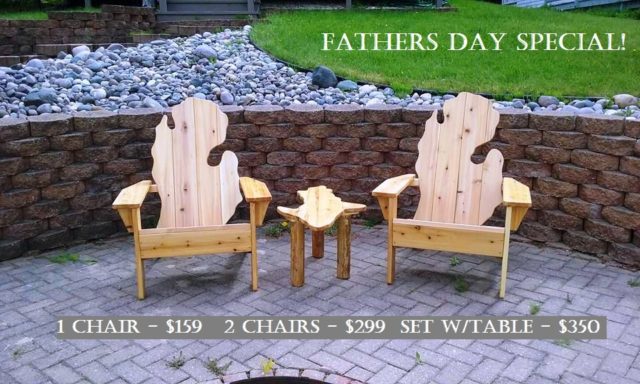 Perfect for Father's Day! Consider our Michigan chairs and table! Priced to sell, these chairs and tables are made of high quality upper peninsula cedar or pine! Less than even the "wholesalers" are doing, our Michigan chairs and tables will only set you back $350 for a complete set of 3 if you order from now until June 17! Best of all, our chairs and tables are made of all Michigan lumber 100% in Michigan!! In addition, from now until then, all Michiganders get free shipping anywhere in the state!
So, to break it down:
Unfinished pine or cedar (upper peninsula wood) will cost you:
$159 per chair or
$299 for a pair of chairs or
$350 for 2 chairs and 1 table
add $50 if you want them finished.
*Chairs will not be delivered until after Father's Day*
*we will have a limited number of sets available in store
Comments