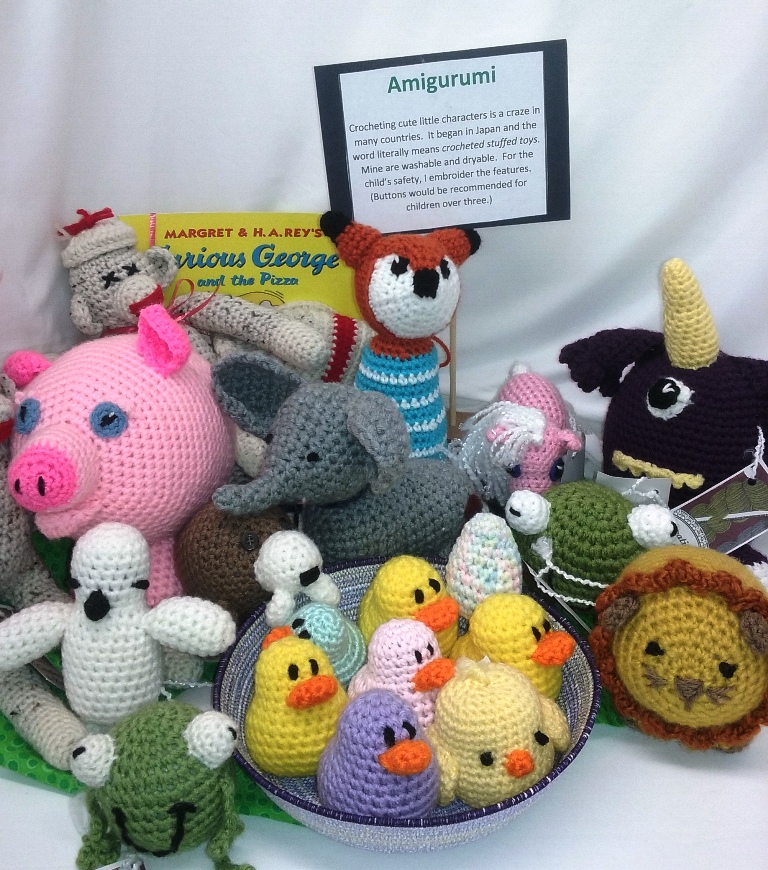 In part 29 of our continuing Meet our Vendor Series, we would like to introduce you to one of our locals. Kathy of Creations by Kathy is a wonderful local lady who volunteers, works with the Ausable Artisan Village and crochets some of the cutest things you could imagine! She and her husband are valuable members of our local artisan community here in downtown Grayling.
Kathy came to us well over a year ago with her adorable crocheted items. From hats and mittens to scarves and of course, the little crocheted animals, Kathy has fit in well here at Tip'n the Mitten. Her most popular items here at the store are her Amigurumi animals. Some of the many animals she has crocheted for our store including the ever popular little frogs, fox, elephant, eaglets, chicks and even a one eyed, one horned, flying purple people eater!
Amigurumi is the Japanese art of knitting or crocheting small, stuffed yarn creatures. These creatures can vary in size and shape. Gaining in popularity in other countries in the early 2000's, its roots date back hundreds of years. According to the Crochet Guild of America, early works dating back hundreds of years, to almost 1,000 years ago!
Kathy's items are unique and colorful and always a hit here at Tip'n the Mitten! Stop by anytime to check out what new creations Kathy has for us!
Tip'n the Mitten is proud to be able to support our local artisans including Kathy Ellison (Creations by Kathy), Mike Lovely, Angie DeVries, Linda Kane, Curly LaMont, Abby Akers (Akers Acres) and others.
Our inventory is always changing and we are always interested on other great Michigan artisan/craftspeople.
Comments