Chunk Nibbles – Featured Vendor at Tip'n the Mitten – We are excited to welcome another great new Michigan vendor here at Tip'n the Mitten! Chunk Nibbles are a tasty treat from Southfield Michigan. A fun food with a fun story, we were excited to meet owner Brad Cocklin when he stopped into the store last week and offered us a sample of his grandmothers creation.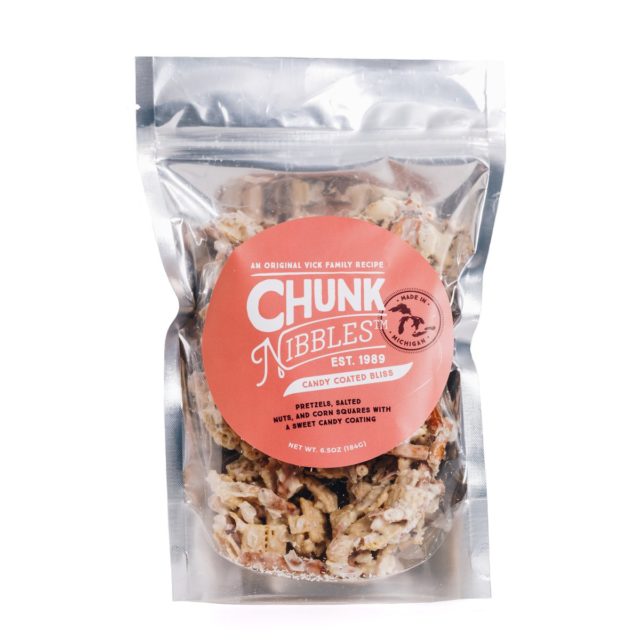 Diet or no, I had to try it and believe me, it was great! He told us the story of how his family has been eating Chunk Nibbles for generations thanks to his grandma. A sweet and salty treat, chunk nibbles are a blend of pretzels, salted nuts, corn squares and a sweet candy coating….
Not only is Brad a nice guy, but the story is one we could all imagine with our own Michigan families and to top it off, they partner with Stiggy's Dogs. Stiggy's Dogs is a non profit which rescues and trains rescue dogs to be service dogs. These dogs are then partnered with veterans who are dealing with PTSD or TBI's. A great cause, that we wholeheartedly appreciate, you can feel great about this product!
The company itself was established in 1989. They still pride themselves in making their own product in small batches to ensure quality every time you purchase. Our order should be arriving soon and samples are available! Stop in soon and try these great new tasty treats from the Vick Family. You will be glad you did!
You can find Chunk Nibbles here at Tip'n the Mitten and also online as well. Follow them on Facebook here, on their website at chunknibbles.com and on instagram at @chunknibbles. Stay tuned to find out more about what is going on with this and other great Michigan companies here at Tip'n the Mitten! As always, you can follow us on instagram, facebook or here at tipnthemitten.com.
Comments