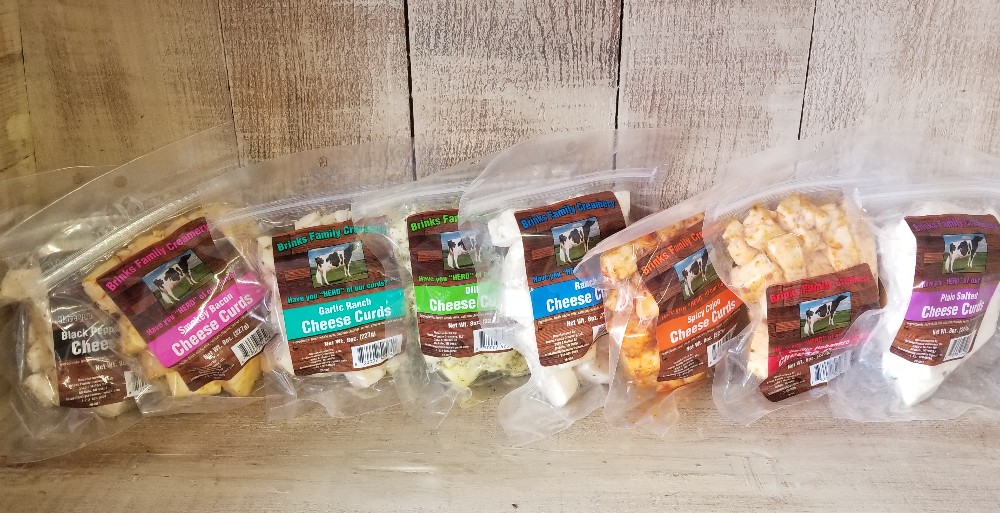 Just because it is winter doesn't mean its not a great time to get new products! We are excited to welcome 4th generation farmers, the Brinks Family from McBain, Michigan!
In case you haven't noticed, we do love our dairy here at Tip'n the Mitten. We are especially fond of the super squeaky curds that can be tough to find here in northern Michigan…the squeak, the chew, the taste..the sheer perfection that is a quality curd, can be hard to match! When the Brinks showed up at Tip'n the Mitten last week, we were VERY pleased with not just with the experience of meeting this wonderful family, but also the quality of the curds, not to mention, the great selection as well!
We were quick to add their products to our store! We carry their entire line of curds including:
Plain salted
Ranch
Garlic Ranch
Black Pepper Steakhouse
Garlic Habenero
Smoky Bacon
Dill
Spicy Cajun
As a girl raised on a dairy farm, I am fond of the life and of the people who continue to farm on small, ethical family farms. A tough life, farming is something that stays in your blood! We invite you to come and taste a sample of this great new product here at Tip'n the Mitten and hope you have enjoyed getting to know a bit more about this wonderful Michigan owned business right here in northern Michigan! Check out their facebook page at Brinks Family Creamery
Oh, did we mention they just got a little Scottish Highlander??!!! You just can't get any better than this! Check out this face!
Comments