Now in week 6 of our "meet our vendor" series, we would like to take the time to introduce you to another of our AMAZING vendors. Soap lovers rejoice, meet Sue the Soap Lady, owner of Artisan Soaps LLC in Novi, Michigan.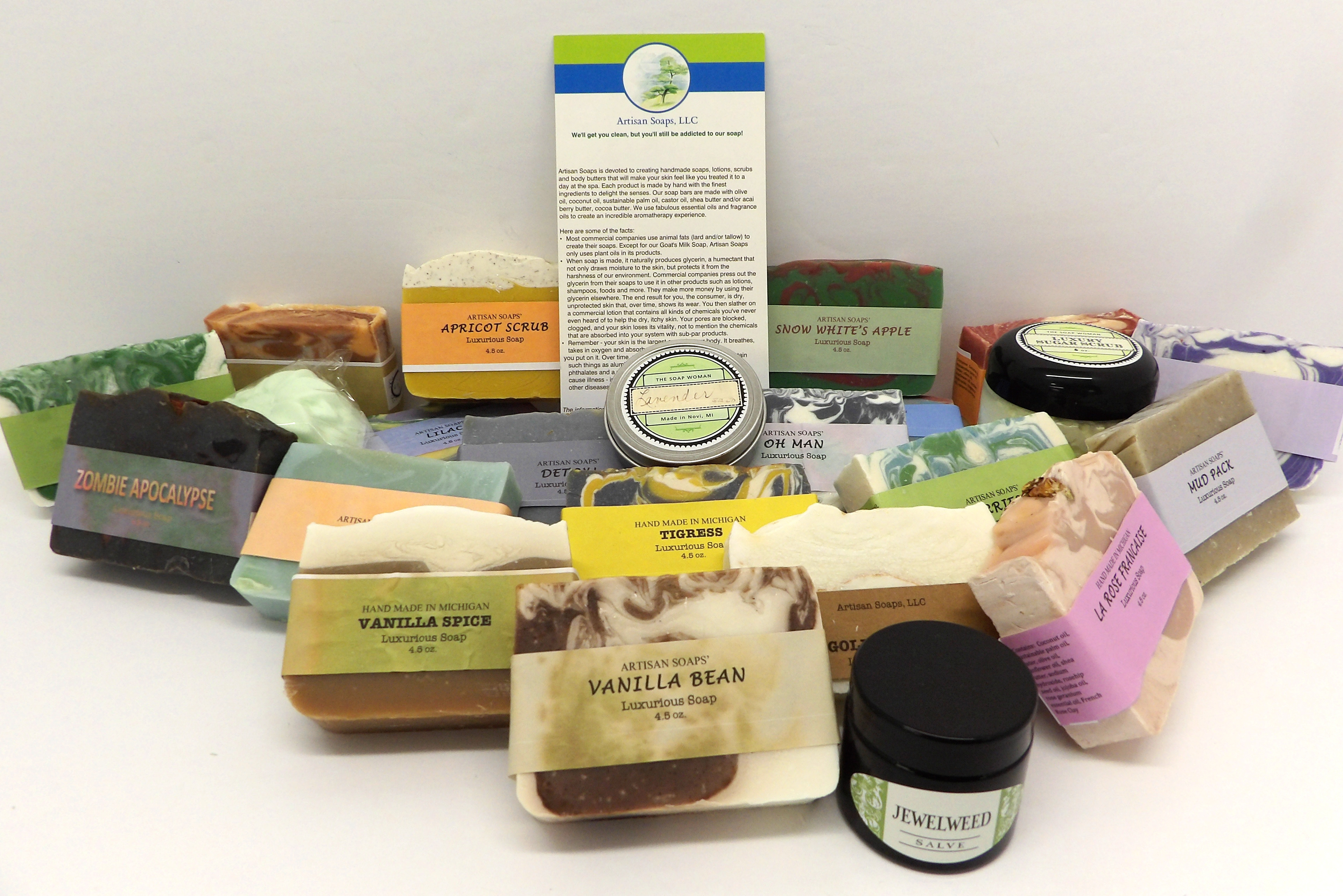 From the very beginning, we knew we needed to have a great soap provider. They had to be from Michigan, they had to know what they were doing and they had to be devoted to producing the finest soaps available and Artisan Soaps LLC was just what we were looking for. Sun Finley creates beautiful bars of soap made even better thanks to the many amazing scents offered ranging from sandalwood or patchouli to apples, berries and even beer! In addition, she also makes salves and lotions to sooth even the driest skins.
From her website:
"The Soap Woman and Artisan Soaps are devoted to creating handmade soaps, lotions, scrubs and body butters that will make your skin feel like you treated it to a day at the spa. Each product is made by hand with the finest ingredients to delight the senses. Our soap bars are made with olive oil, coconut oil, sustainable palm oil, shea butter, sunflower oil as our base. We use fabulous essential oils and fragrance oils to create an incredible aromatherapy experience."
Like all our vendors, we are proud to be able to offer you access to her wonderful products. We believe in the quality of these soaps and like most of our inventory, personally enjoy using them, even at home.
Since the first month we opened, we have been pleased to carry these wonderful soaps which have consistently been some of our top sellers. Even during our slower months, repeat customers from all over the state come back in over and over to stock up on their favorite scents including "witchy woman", a personal favorite here at Tip'n the Mitten.
If you are looking for great soap that won't dry your skin and is made with your well-being and enjoyment in mind, stop in here at Tip'n the Mitten and smell the delightful soaps made by Sue and Artisan Soaps LLC.
If you would like to know more about Artisan Soaps LLC, you can find them online at 
www.artisansoaps.net
or follow them on facebook
here
.
Comments