Its that time of year again! The 12 Days of Christmas here at Tip'n the Mitten!! Time to save BIG on our top products for the holidays 🙂 This year, we are keeping some of our favorites and have added a few new ones as well!! Redeem your Mitten Money from the big shopping weekend to save even more! To keep everyone comfortable and to better meet your needs, we are also offering each of our daily deals online in our store at tipnthemitten.com/shop as well! It will be under the daily deals!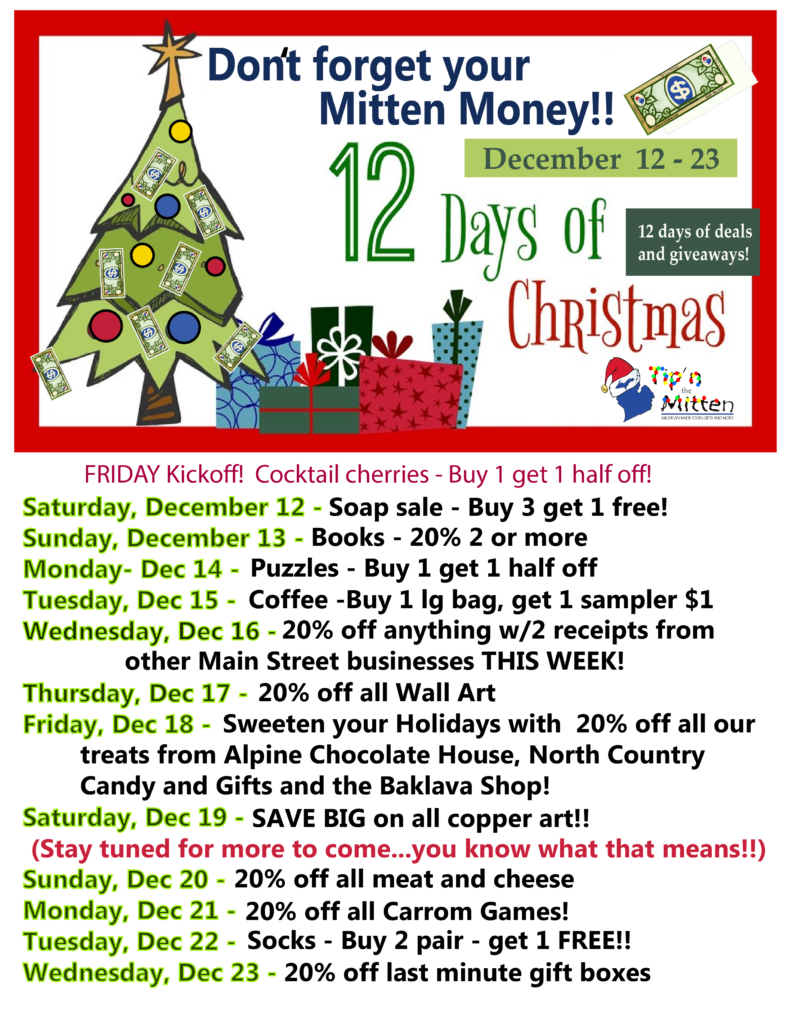 Here is a list of this years 12 Days:
Saturday 12-12 – Buy 3 get 1 free soap
Sunday 12-13 – Books 20% off 2 or more
Monday 12-14 – Buy 1 get 1 half off Puzzles
Tuesday 12 -15 – Buy 1 large get one small bag of coffee for $1
Wednesday 12 -16 – Save 20% with 2 receipts from other area business for this week!
Thursday 12-17 – 20% off all wall art
Friday 12-18 – 20% off all sweet treats from the Baklava shop, North Country Candy and Alpine Chocolate House!!!
Saturday 12-19 – Save BIG on all copper art! – (stay tuned)
Sunday 12-20 – 20% off all meats and cheeses
Monday 12-21 – 20% off all Carrom Games
Tuesday 12-22 – Sock Sale! Buy 2 get 1 free!
Wednesday 12-23 – 20% off last minute gift boxes
For any questions or to find out more, follow us on Instagram, Facebook or just contact us by phone at 989.745.4571! Also, check out our new store Flowers by Josie (the best flower shop around 😉 ) for great 12 days of flowers deals and designs and get that perfect bouquet or centerpiece for the holidays!
Tip'n the Mitten/Flowers by Josie (FBJ), the perfect one-stop-shop for all your holiday needs!
212 E Michigan Avenue, Grayling
Comments